Geejay Nutmeg (Cookie) was purchased in October 2012 from Devils Creek Stud in WA, as a young 4yo mare in foal.
Bred by the Geejay Stud in VIC, Nutmeg has a delightful nature, excellent movement and outstanding Heritage HSH
including the great Cecil Bruce, Rivoli Ray, Nabinabah Gunner, Abbey and Panzer
.
In addition to her fantastic lines, Cookie is a rare silver dapple or black silver mare, sometimes otherwise referred to as taffy. Her genotype is aa EE nZ, meaning she will never have a chestnut foal, and 50% of her progeny will carry a silver gene.
On 11 Dec 2012, Cookie delivered a beautiful chocolate brown filly by Ahrem Rivoli Tex, now named Skyview Silver Moon (for further details see Our Foals and Sold pages). Silver Moon has been sold to a wonderful home in South Australia and we welcome Patty to our Skyview Family.

Cookie has proved to be an excellent young mother. We are very much looking forward to returning her to saddle, and competing in led and ridden ASHS and Dilute classes during 2013, before putting her in foal to an ASHS stallion in Spring 2015.
(Baree Gunman - HSH x Nuniong Peppa - HSH)
Photos opposite are of Delta at 14 months
15.2h (approx) Silver Dapple, Australian Stock Horse Mare
registered ASHS 188323 , Dilutes Australia (Black Silver)
Date of Birth: 11 September 2008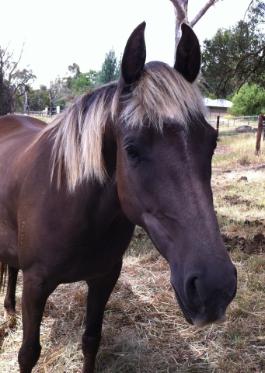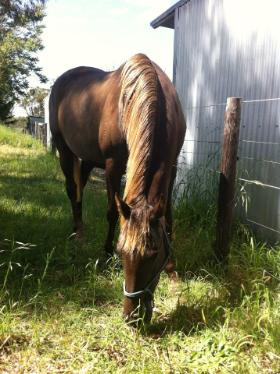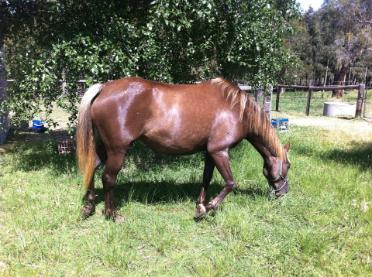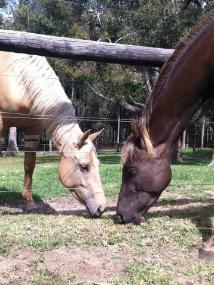 ****************************************************************************************************************************************************************