Reference Sire - Le Primeur (HAN)
(International Frozen Semen)

sire of Skyview Premier d'Or (click on name for link)


****************************************************
Le Primeur
click here for pedigree

Hanoverian Celle State Stallion
Year of Birth: 1997
16.2 1/2h Chestnut

Stallion Performance Test 1999, Adelheidsdorf

Overall score: 147.84
(1st of 45 stallions selected for licensing)

Dressage score 142.56 / 2nd
Jumping score 143.49 / 1st
Breeding values: Dressage (124) Jumping (137)

Heritability

Riding type (94)
Conformation (125)
Dressage (94)
Jumping (132)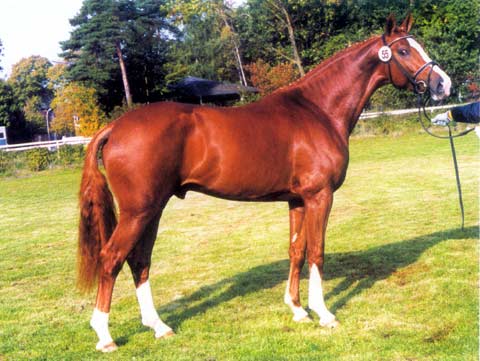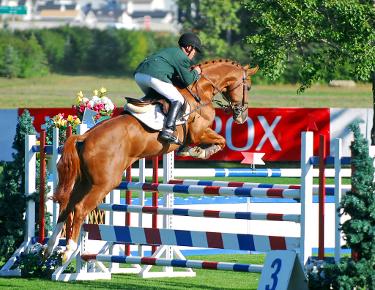 The genes of performance test winners Laptop and the dam's sire Pinkus produced this runner up of the Verden stallion licensing in 1999.
Le Primeur descends out of a dam line with the highest evaluation for conformation. Le Primeur has extraordinary type, expression, good conformation and a willingness to perform at the highest levels of both disciplines of dressage and jumping. He attracted everyone's attention with his willingness to work. He achieved outstanding jumping ability and three good basic gaits, especially a tremendous uphill canter.
After successfully participating in his second tournament, he qualified for the Hanoverian show jumping Championship in Dobrock in 2001.

He has won in excess of 40 aptitude tests and show jumper classes at the novice, elementary and intermediate levels. His greatest sports highlight thus far was his placement in the finals of the 2002 Federal Championship of 5yo show jumpers.
At the stallion performance test, Le Primeur scored 9 for character, 9 for temperament, 9 for trainability, 9 for conformation, 8 for free jumping, 9 for show jumping, 10 for natural jumping ability, 9 for rideability, 6.5 for walk, 9.16 for trot, 9.84 for canter.

Here is a stallion of exceptional performance and character.


He has produced 3 licensed sons, 29 auction horses, 19 state premium mares, 107 main stud book mares.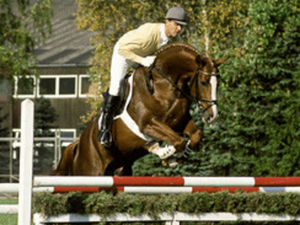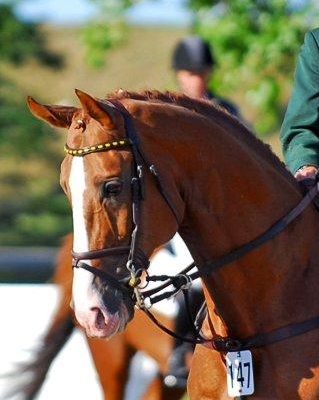 ********************************************************************
Le Primeur's dam, Palue, and sibling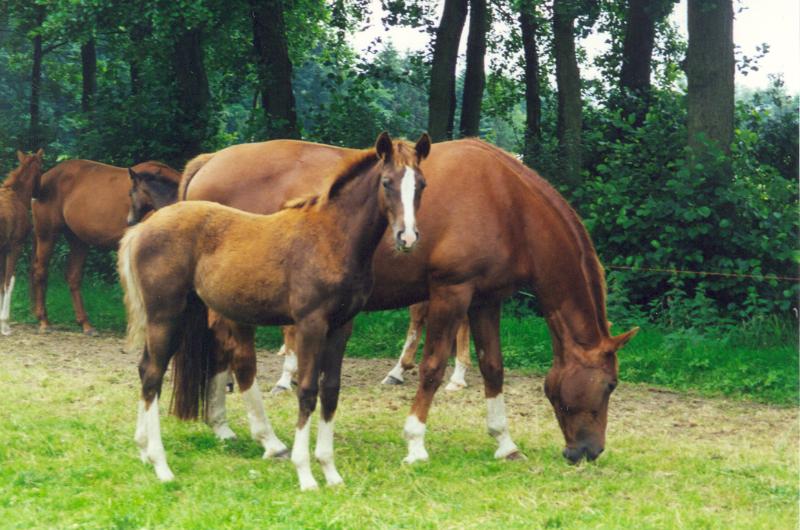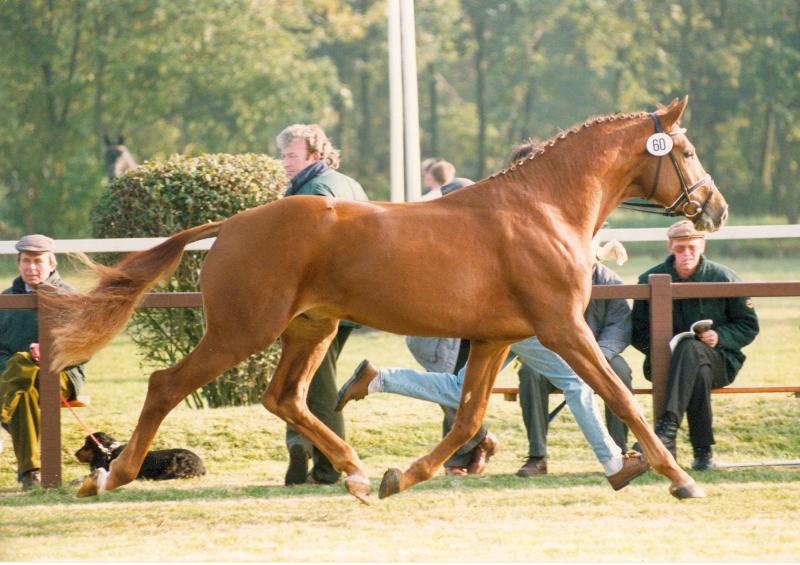 Le Primeur's sister, Wondergirl, out of the same dam (Palue).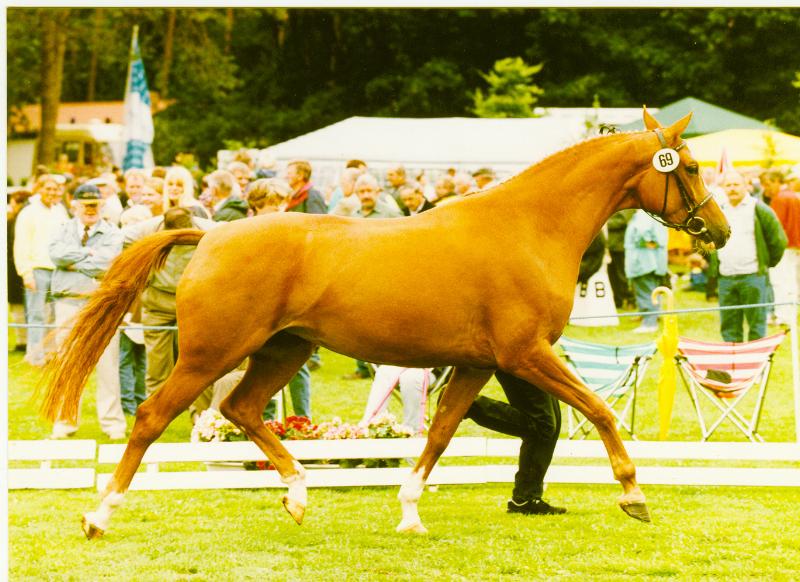 to the left, Palue's full brother, Premium
(also by Pinkus)
showing consistency of type
Background of Le Primeur's sire, Laptop
Laptop was the sovereign winner of the stallion performance test in 1995. He achieved high results in both dressage and jumping category, and attracted everybody's attention by his willingness to work. The pedigree of Laptop already stands for success: his sire Loredo is a high quality son of the great Holsteiner stallion Lord, who produced top class jumping and dressage horses as well as successful sires. The dam line of Laptop also produced international show jumpers including the approved stallion Spartan, who won several show jumping competitions in Canada and the U.S. Spartan is the sire of the State stallion Stakkato, who is one of the best young show jumping horses at the moment. Laptop had a successful debut as a sire of licensed stallions in 1999: last year two sons out of his first crop were taken over by the Celle State Stud. One of them was the very typey Le Primeur, who won - like his father - the stallion performance test in 2000 with great results in both dressage and jumping. Laptop's daughters have revealed above average jumping ability and very good rideability in mare performance tests.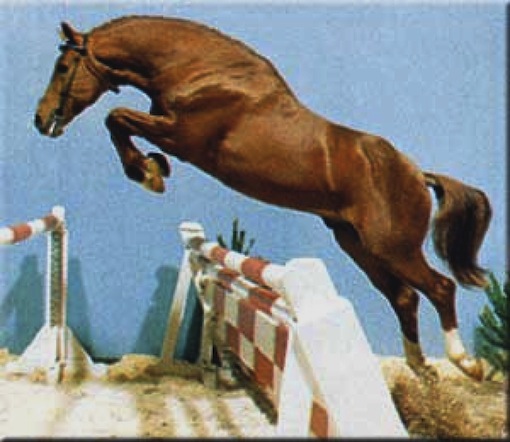 The Hanoverian Stallion Pinkus was the winner of the 1986 stallion 100 day test with a jumping score of 131.07. Pinkus is the sire of the State Premium mare Pascona, the dam of the 100 day tested and approved Hanoverian stallion, For Paragon. Pinkus is also the sire of Positano. Pinkus' grandsire, Praefectus xx is also the dam sire of Bonfire, individual gold medal winner at the 2000 Olympics (Sydney)