Pegasus Lodge Silver Pearl SOLD October 2019
A quality double dilute 2yo (born on 24 December)filly with temperament, movement, conformation and excellent bloodlines.


(PL Silver Sovereign x Goldmine Figurine-HSH)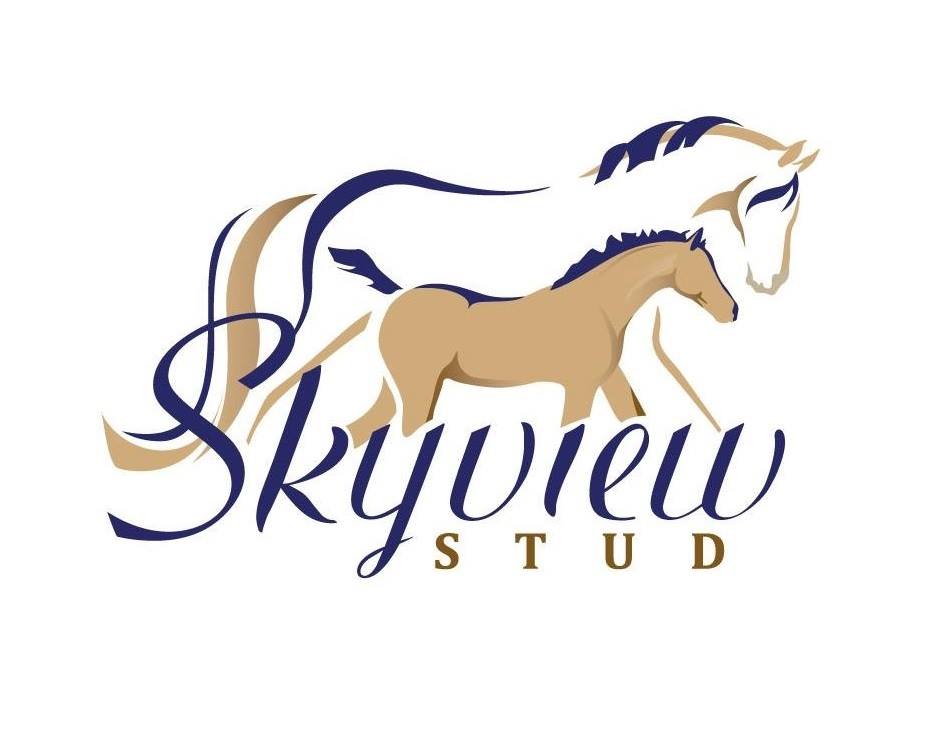 (est mature height) 15.1h yearling Cremello Filly
Markings = Half moon, no socks

ASHS Registration: 247021
Eligible for registration with Dilutes Australia

Date of Birth: 24 December 2017


Click here for All Breed Pedigree

click here for Australian Stock Horse pedigree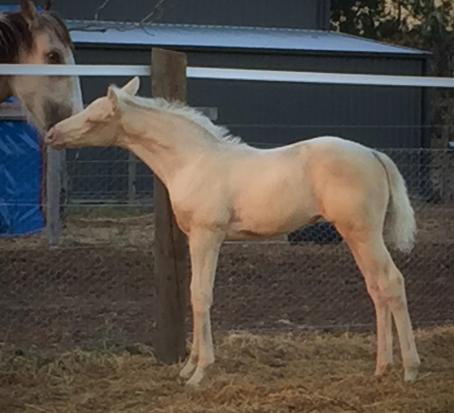 Pegasus Lodge Silver Pearl
is by Pegasus Lodge Silver Sovereign and out of Goldmine Figurine-HSH.
Goldmine Figurine is out of our foundation mare, Goldmine Champagne Blush-HSH.


********************************************************
For anyone looking for a wonderful filly as a great future riding horse, dilute show horse and 100% colour producer, we present the cremello Australian Stock Horse filly, Pegasus Lodge Silver Pearl.


Click on this link to email, or our mobile contact number is on the "Contact Us" tab.


Pearl has a wonderful easy nature, great walk and over track, expressive pretty trot, and represents a unique combination of three of the best palomino lines in Australia, including Claredale Champagne Charlie, Silver Sails and Waveney Court Charger / Kilmane Archimagus.

We estimate Pearl will mature around 15.1h. She is currently 18 months old and in a 5'9" rug.

Pearl is fully vaccinated, wormed, trimmed by the farrier every 7 weeks, her teeth have been done, and she is well handled and winter-rugged.

She is warm, friendly, affectionate, has a lovely easy way about her. You do not need a halter on to rug or unrug her, and haven't need one since she was a baby.

Pearl has a gentle nature, and has never kicked or bitten another horse that we have seen, and is in the middle to lower end of the herd structure, which is why we chose her to partner with our weanling filly Skyview Divali.

Our farrier often comments that she would make a fantastic children's or mature lady's horse, due to her temperament.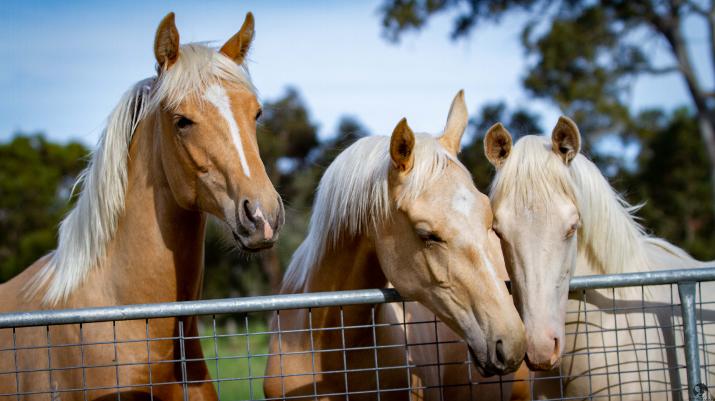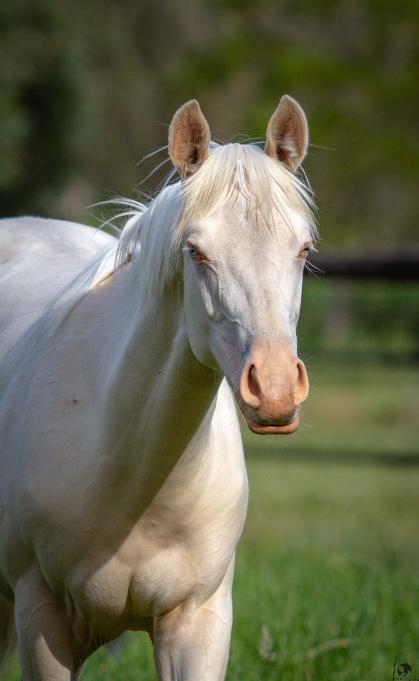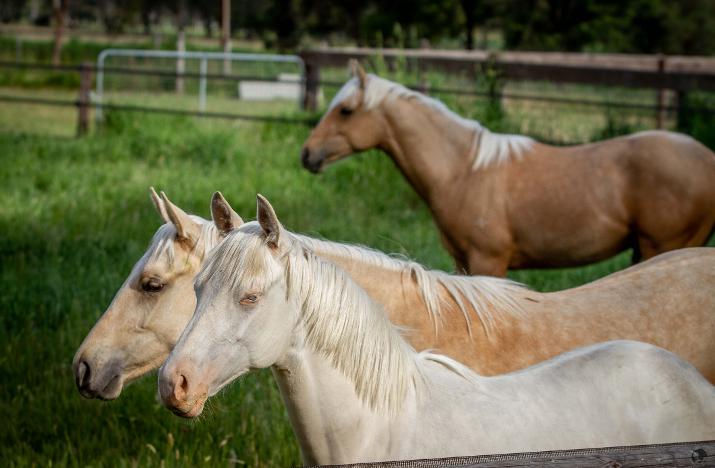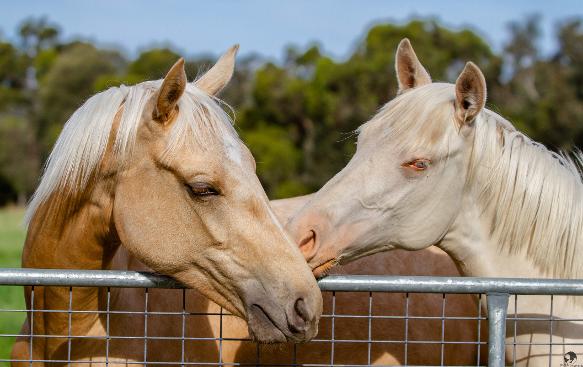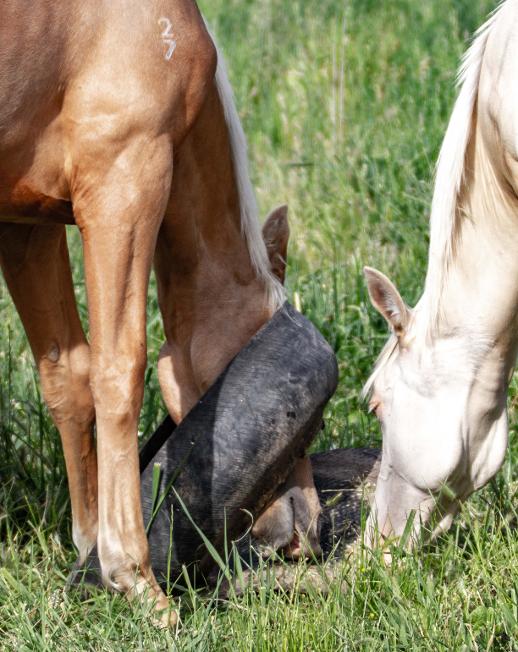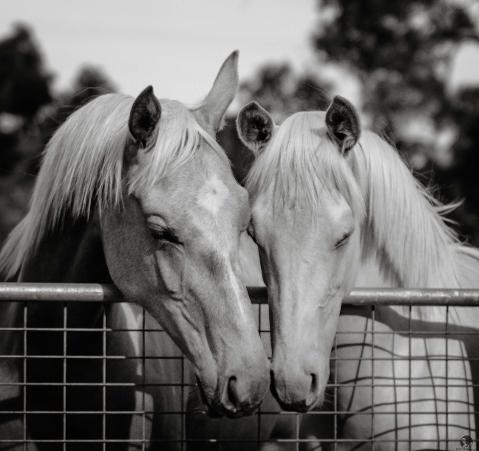 Photos of Pegasus Lodge Silver Pearl at 6 weeks of age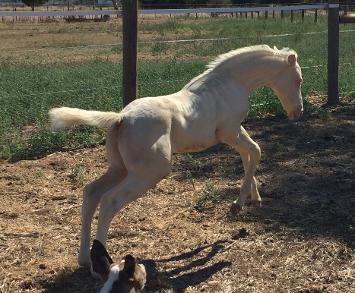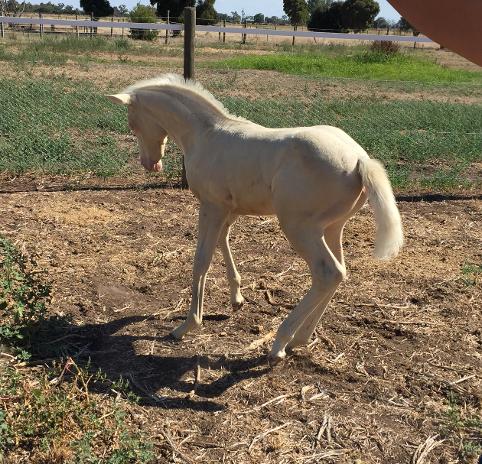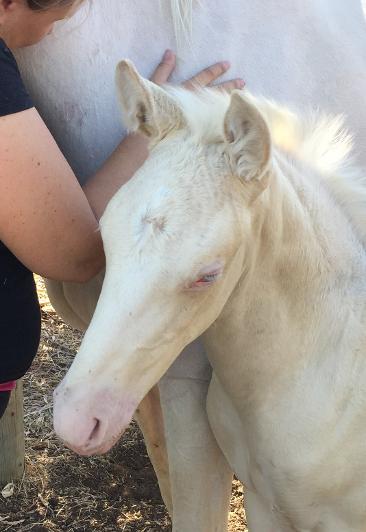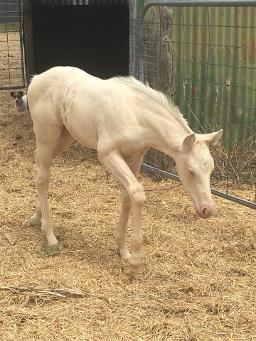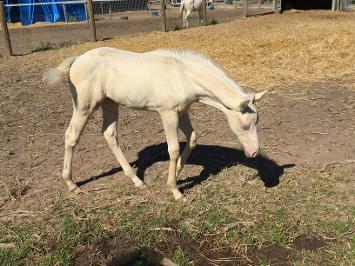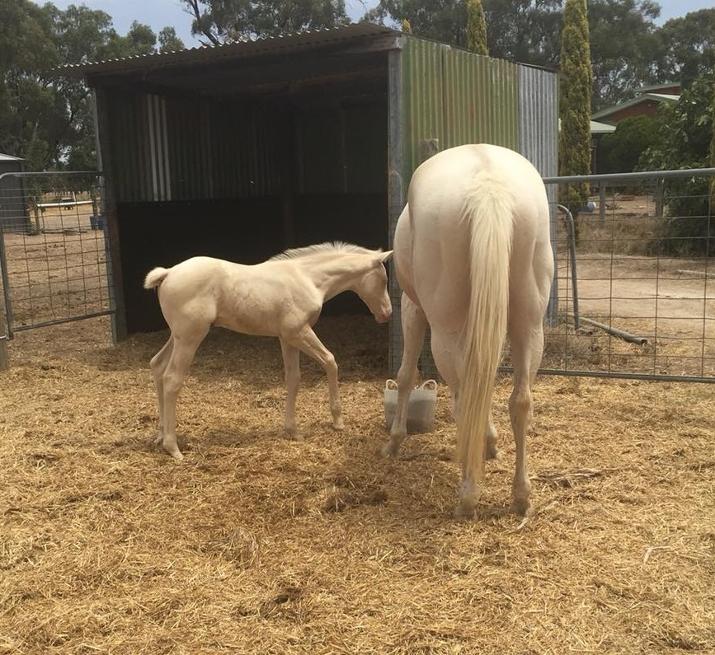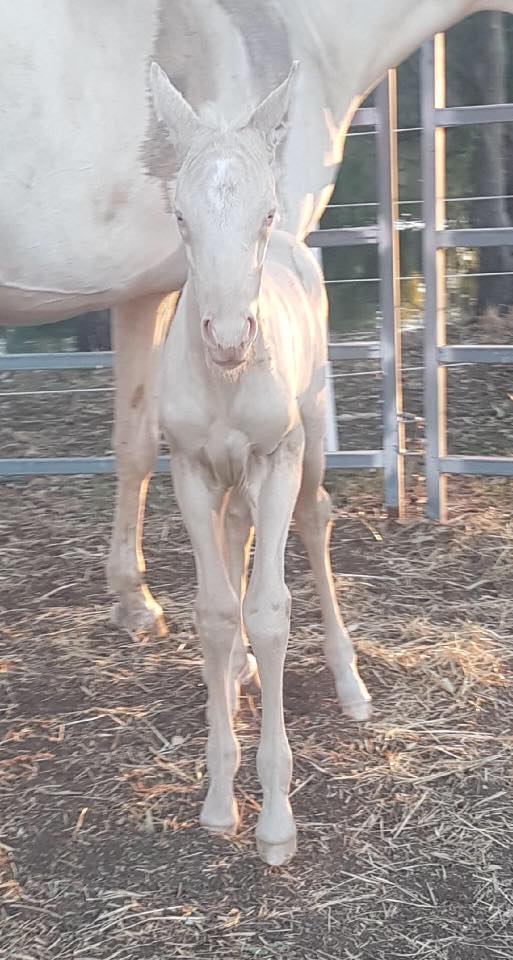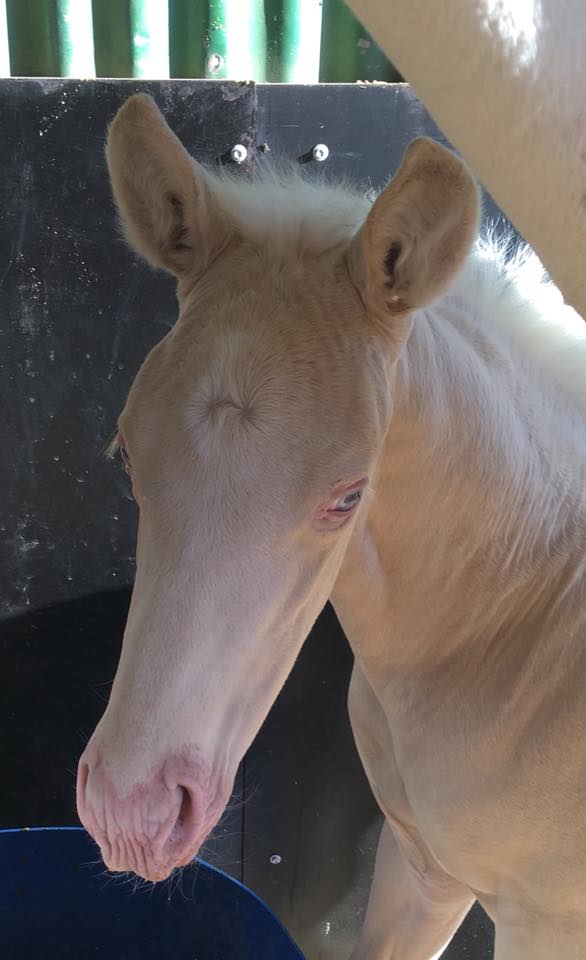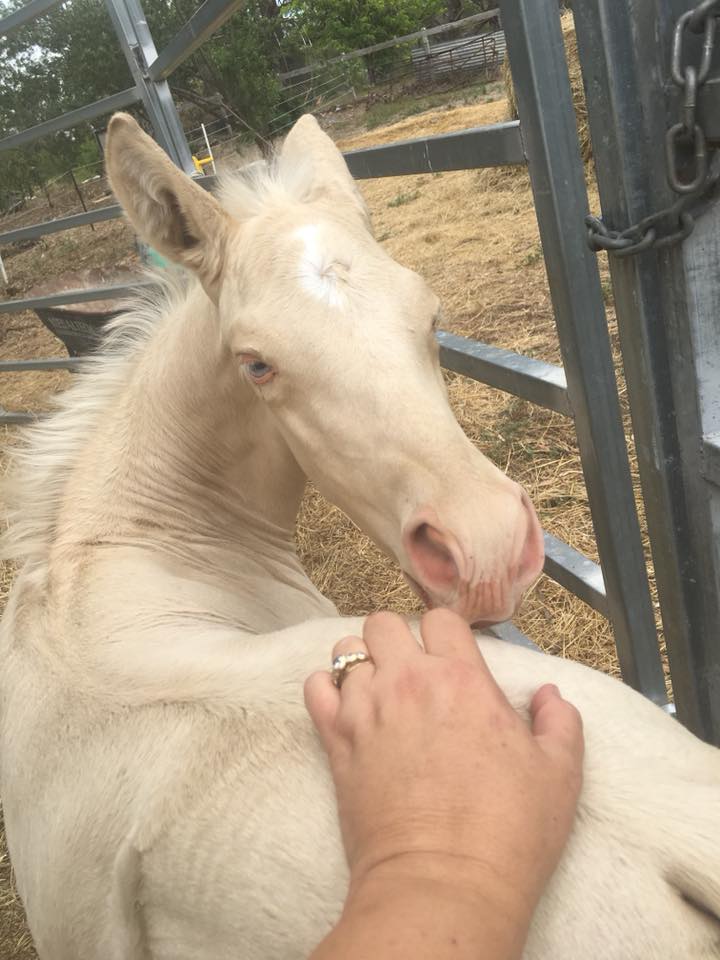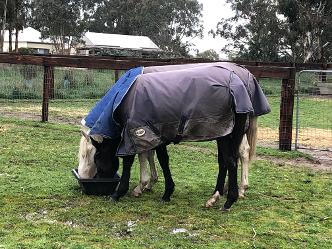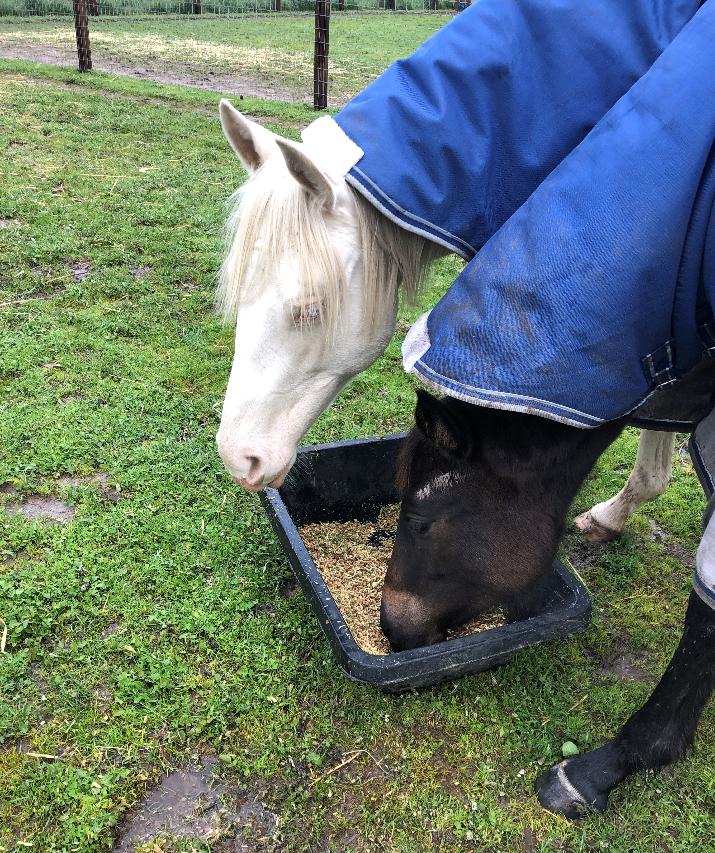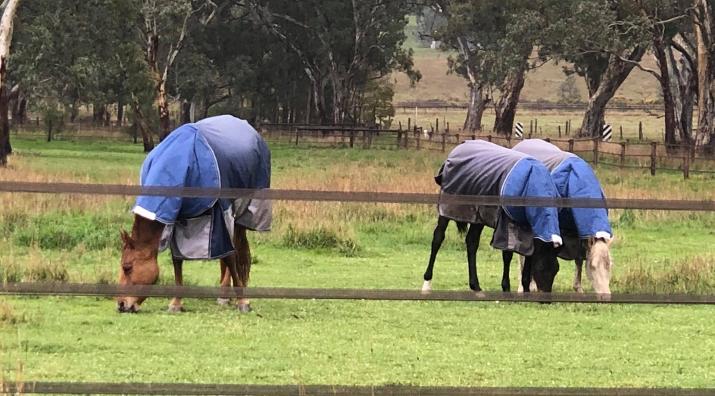 **************************************************************************
Her sire - Pegasus Lodge Silver Sovereign

Sovereign was bred by and stands at stud with our friends at Pegasus Lodge in Victoria, Australia.

Sovereign and his progeny are well known for their wonderful temperaments with good trainability, and as lovely multi-purpose riding horses.

Sovereign also offers valuable genetic links and diversity through to the well known Australian palomino stallions Silver Sails (dec), and Waveney Court Charger (dec), through Beauleigh Wizard (dec) and Kilmaine Archimagus (dec), all of whom were great horses in their own right.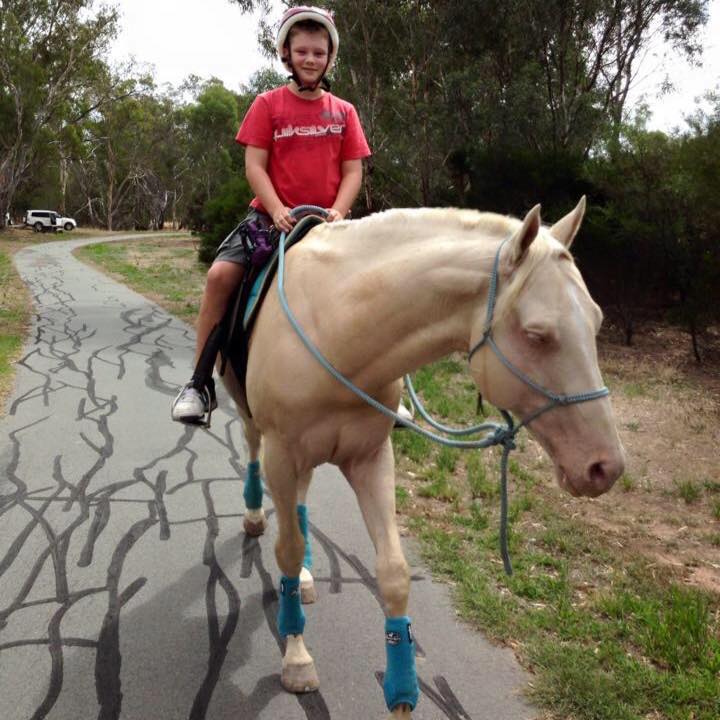 Her dam - Goldmine Figurine
Goldmine Figurine is the first foal from our foundation mare, the multi National, Royal and Supreme Champion
Goldmine Champagne Blush-HSH
.
Goldmine Champagne Blush-HSH is still known as one of the best palomino mares ever in Australia, and was Champion of Melbourne Royal Show 7 years in a row.
Figurine is full sister to our State, National, Royal and Supreme Champion mare
Goldmine Latte-HSH
, and half sister (out of the same mare) as our State, National, Royal and Supreme Champion mare,
Skyview Eternity-HSH
.
Figurine is also half sister (out of the same mare) as
Goldmine Mirage-HSH
, the stallion we have frozen semen available from.
**********************************************************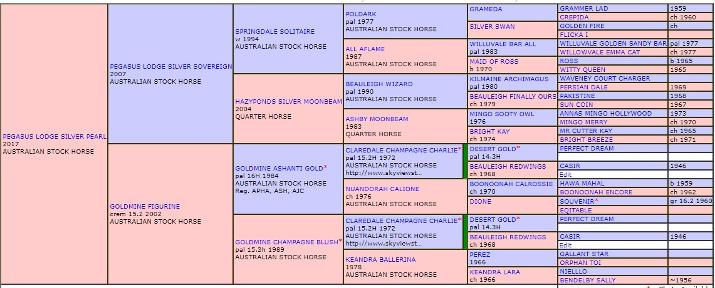 *********************************************************