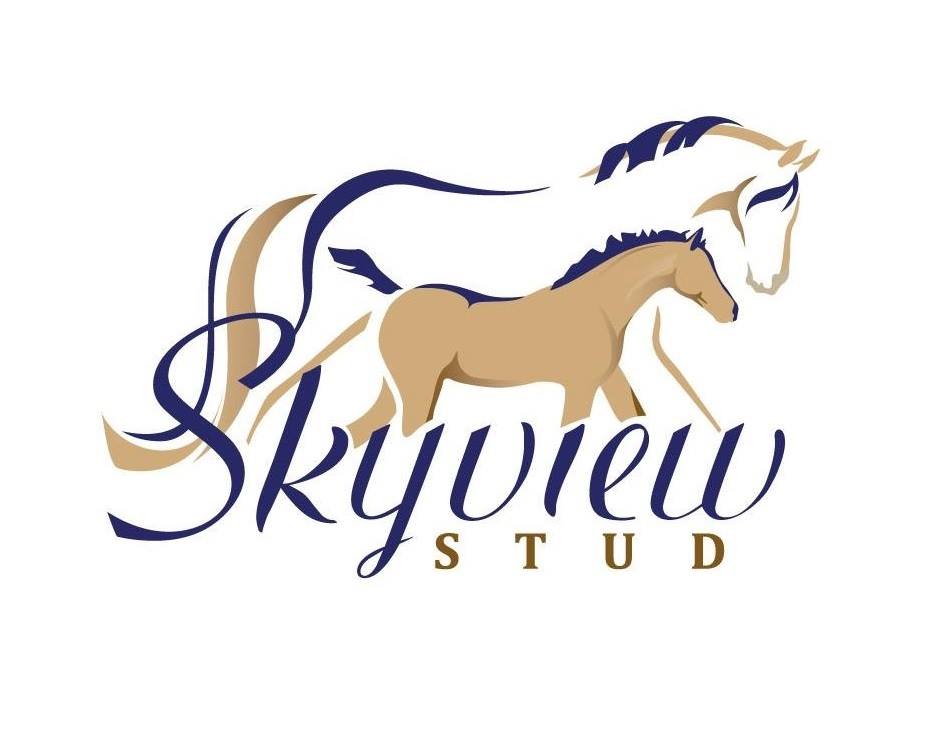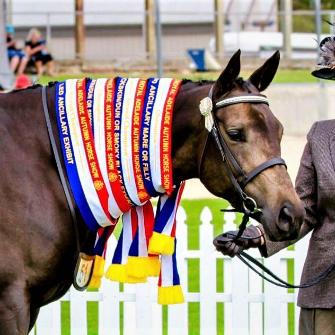 Skyview Eternity-HSH is Skyview Stud's third filly, and last foal ever, from our foundation superstar mare, Goldmine Champagne Blush-HSH.

Born 24th November 2012 (our first of three filly foals in that year), Skyview Eternity-HSH is our future Dilute, Australian Stock Horse, ANSA, dressage and hopefully open hack horse, before becoming an irreplaceable broodmare.

She is a special heart horse for Jenni, and will remain with us for her lifetime.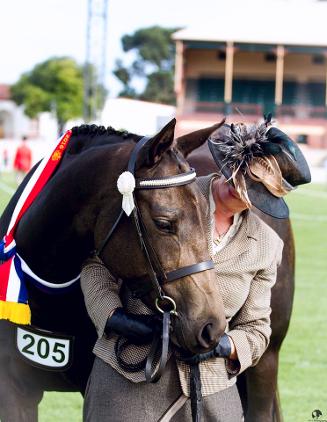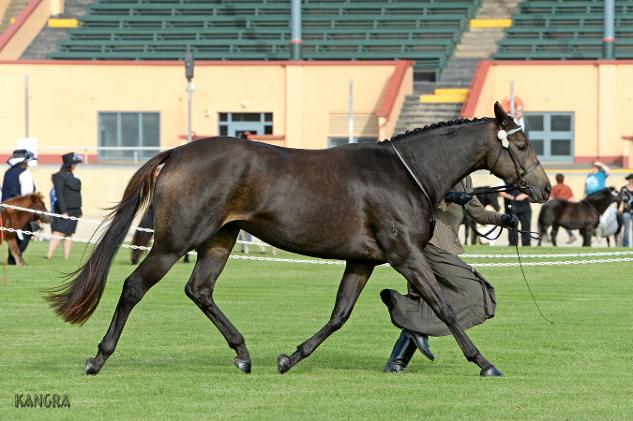 2 - 3 April 2016

Adelaide Royal Autumn Breed Show
Tilly (Skyview Eternity-HSH) and I went together to the Adelaide Royal Autumn Breed Show this year. Our classes ran over the Saturday and Sunday.

It was Tilly and my first outing in 12 months, her third show ever, first time stabled overnight at the Showgrounds, and she was an absolute superstar legend. Walked over, around, through and past everything without blinking an eye. Lunged a tiny bit on the warm up arena in amongst everyone in a halter and was perfect.

Took it all in her stride, cool as a cucumber.
Very impressed with Eternity's behaviour and the way she handled a big atmosphere.

Our Results

2 Royal Show Champions, 3 x 1sts, 2 x 3rds including Australian Stock Horse led.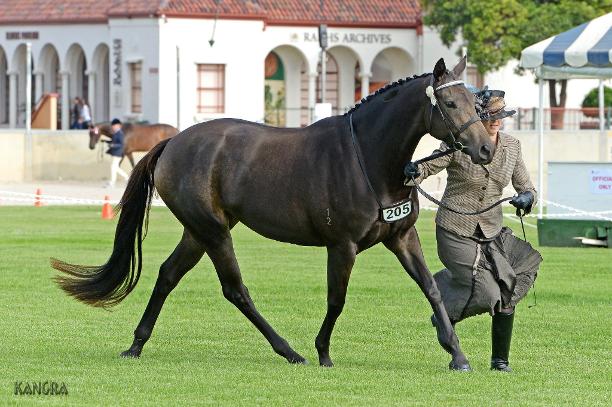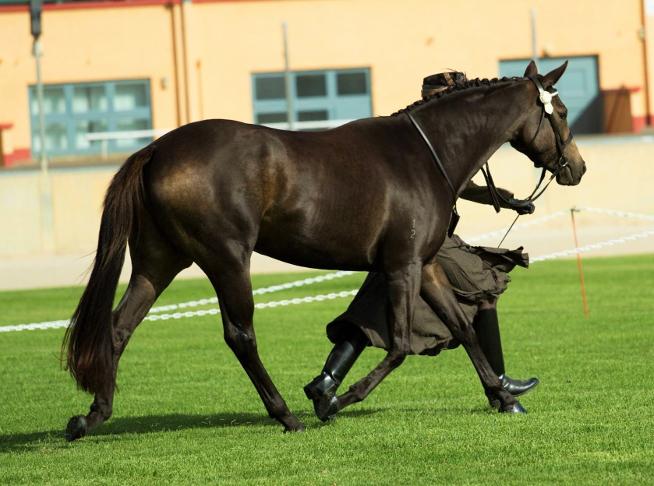 Thank you to our lovely judge and stewards.
Never an easy job.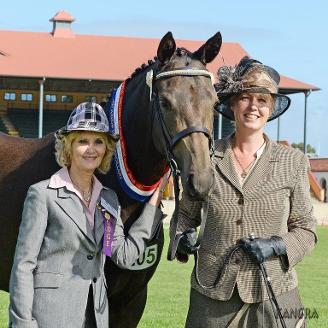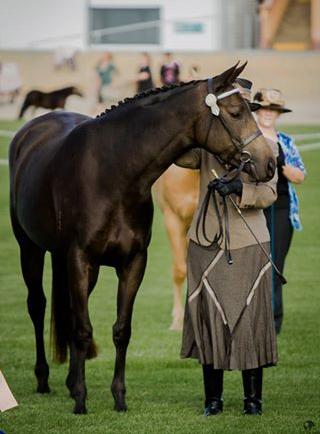 We were thrilled with Eternity's results at her first Royal show.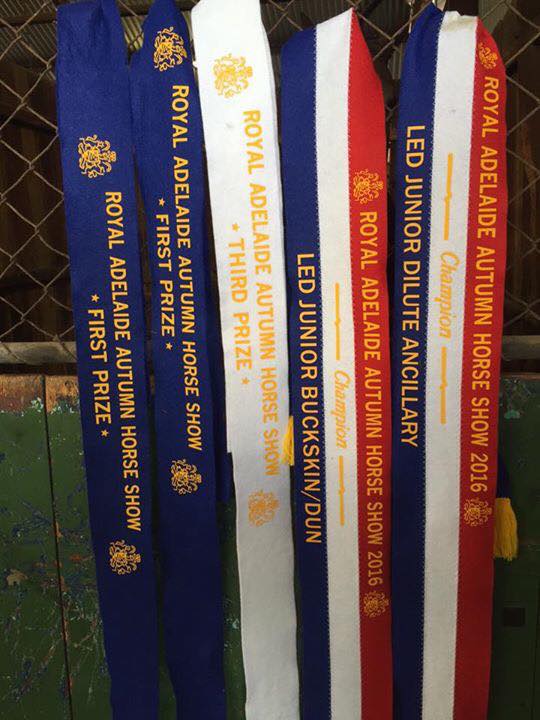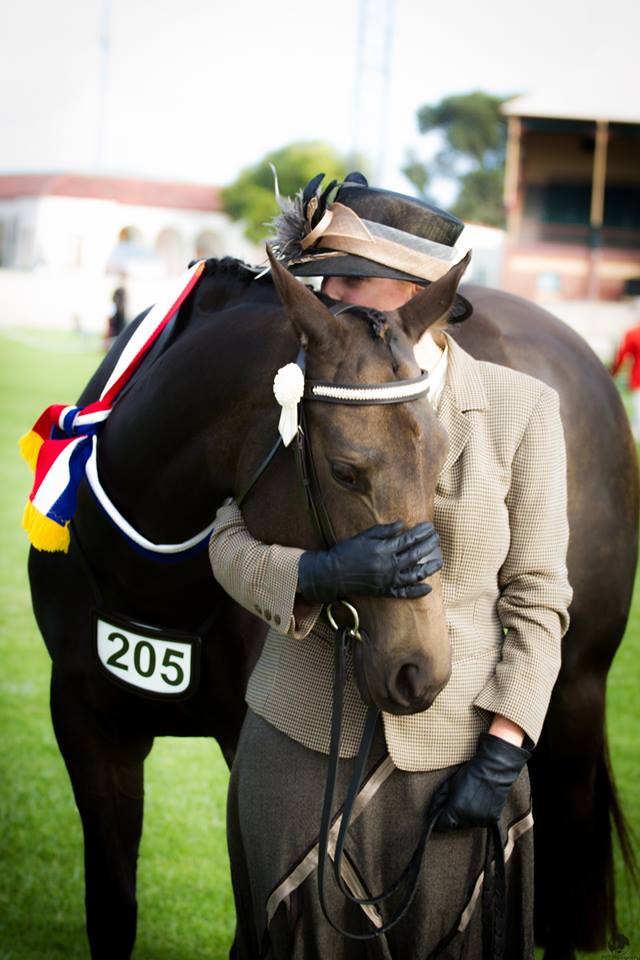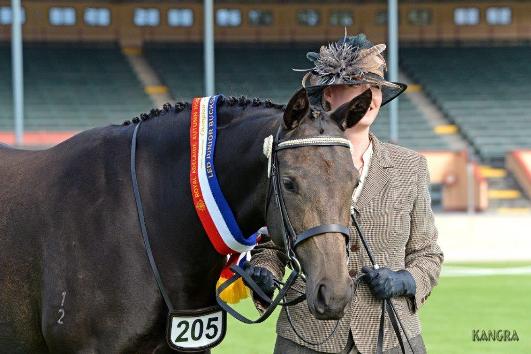 Photo of Skyview Eternity-HSH as a yearling,
taken by Rebecca Moore, SA.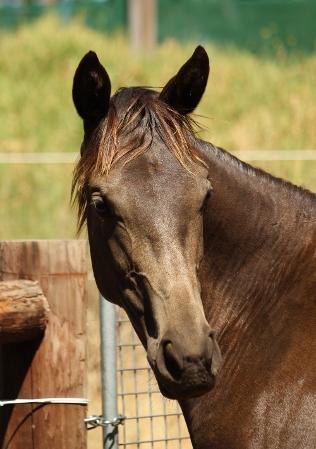 Photo as a 4 week old, taken by Karen Sheridan, SA.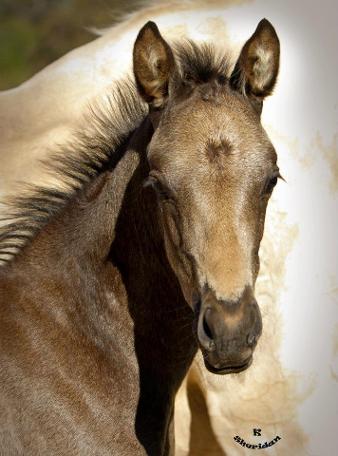 First buckskin ASHS foal by Chalani Nightdance, and what a cracker she is!!


Tall, elegant, classy, lovely conformation, beautiful swan neck, superb chiseled head, and the best temperament in the world.
12/03/16 - on the journey ... Royal Show preparation as a 3yo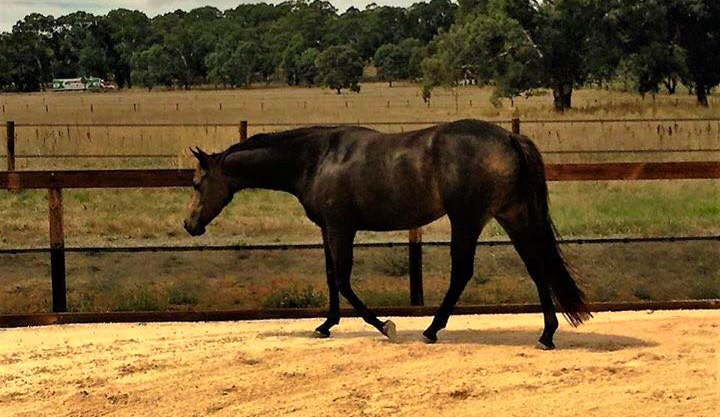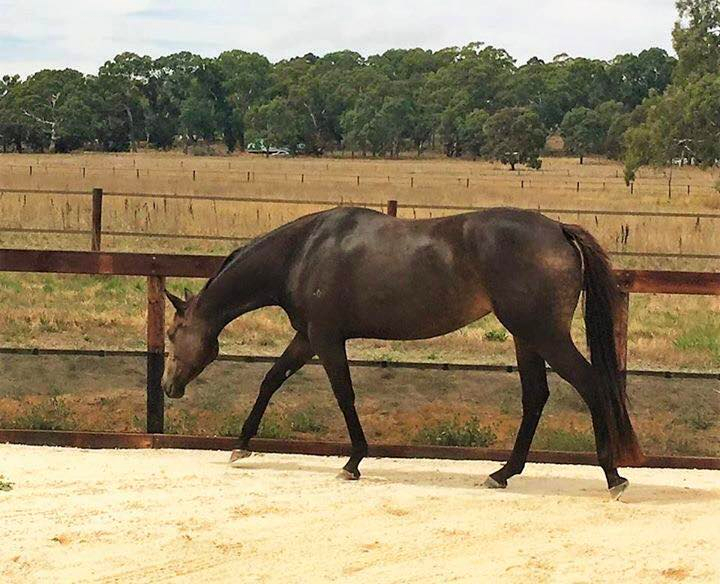 **************************************
08/05/14 - Skyview Eternity - growing up nicely
Paddock picture taken 2 days ago of our rich chocolately brown buckskin yearling filly, Skyview Eternity (Tilly). As you can see she's reasonably bum high at the moment as she has lots of growing to do.

Her 3yo turning 4yo in November paddock mate, Skyview Champagne Rose, is about 15.2h at the top of the hindquarters. These girls are 1/2 sisters and out of the same dam as our Goldmine Latte.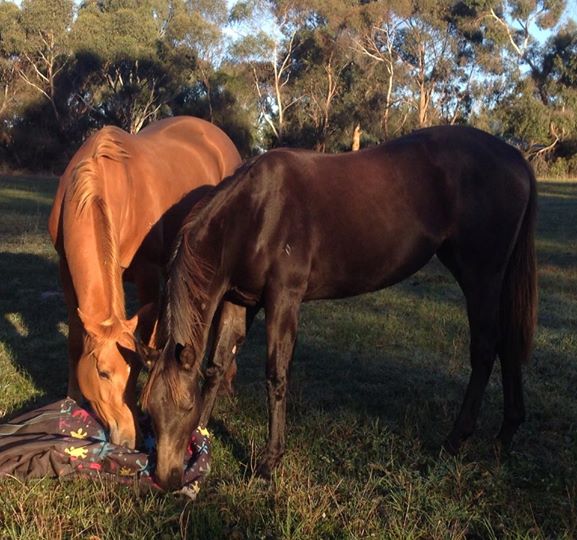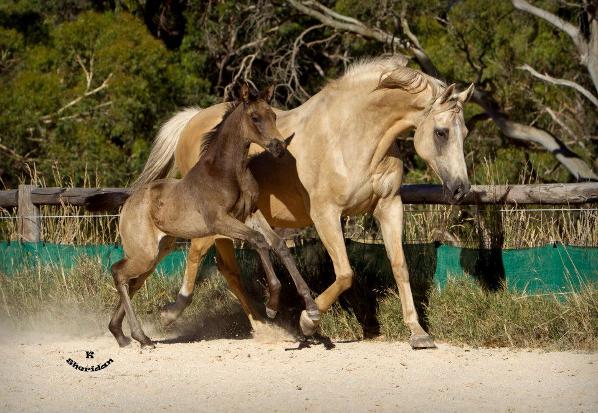 Skyview Eternity-HSH at five weeks of age.

Note the uphill nature, lovely front with inability to turn "up-side down" due to
correct musculature, and incredible drive in the hind, resulting in the hind leg
hoof placement, almost right up under where the girth will sit.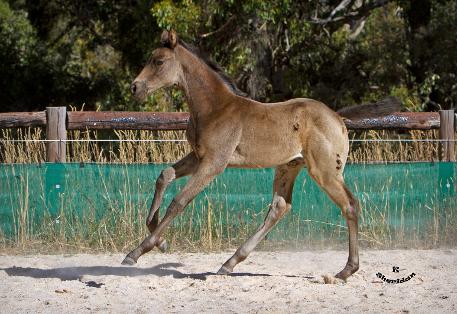 Both her dam, Goldmine Champagne Blush-HSH and her sire, Chalani Nightdance are Royal Show Champions and multiple Supreme Exhibit winners, including ASH, ANSA, Palomino and Open Classes, with Blush named Champion Palomino Mare at Melbourne Royal 6 years in a row.

Blush's second filly Goldmine Latte-HSH (Lil) is Skyview Stud's National Champion Dilute led and ridden, State Champion Dilute led and ridden, State Champion Stock Horse Led and Hacking, awarded Champion Led and Ridden horse in ANSA, multiple Reserve Champion Open Hack and placed in the top 4 in EA Open Novice Dressage at her first outing.

Skyview has also retained Blush's third filly, Skyview Champagne Rose-HSH (2010, Cherry). Skyview Eternity-HSH (Tilly) is Blush's fourth filly and final foal.


Welcome Our Tilly, you're a keeper.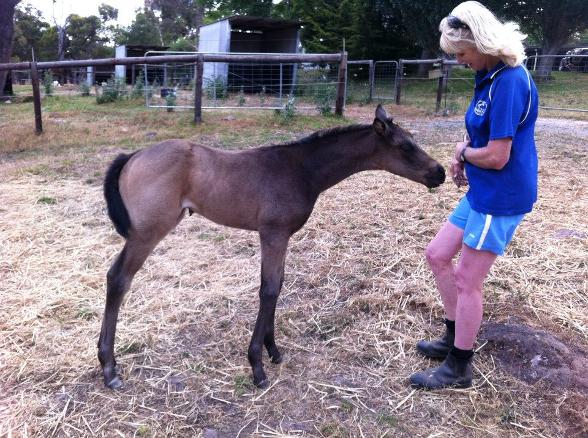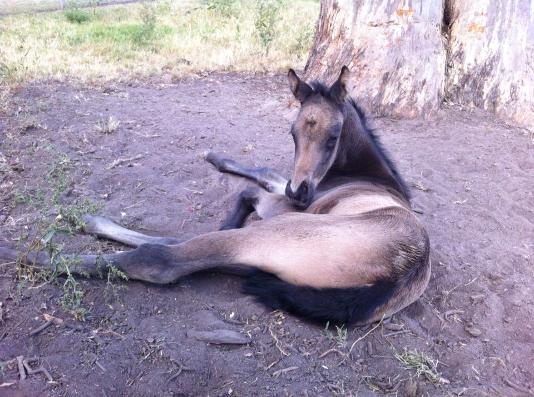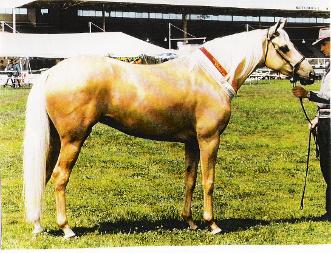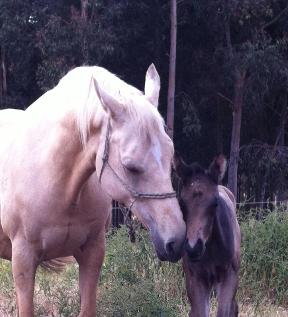 Her dam -
Goldmine Champagne Blush-HSH
At 23 years of age, Champagne Blush's record still stands as one of the two most successful palomino show mares in Australia, partnered by the famous Chico d'Oro mare, Lawes Elegant. In addition, Blush is a full stud book Australian Stock Horse.

Blush was retired to stud as a 10yo and has produced two cremello mares, Goldmine Figurine (2002) and Goldmine Latte (2003), two cremello stallions, Goldmine Mirage (2005) and Goldmine Phantom (2007), a chestnut filly, Skyview Champagne Rose in 2010, and, finally, a brown buckskin filly, Skyview Eternity, 2012.



Blush

will now be retired and live the rest of her days in well-deserved luxury.
****************************************************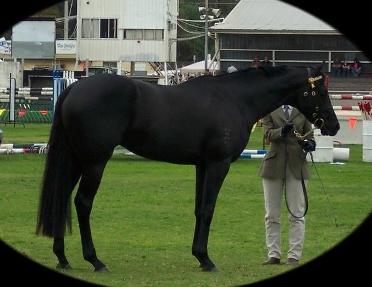 Her sire - Chalani Nightdance

Chalani Nightdance's progeny are already proving to be exceptional, and with the oldest progeny in 2012 only 5yo, have themselves won Champion and Supreme titles, both led and under saddle, in ASH, ANSA and Open Hack, including Supreme Led Exhibit of Show.

In early 2016, Chalani Tempo (born 2012), son of Nightdance, won the SA 3yo Futurity, and both Champion Australian Stock Horse Stallion or Colt and Champion ANSA Stallion or Colt at Canberra Royal Show. He was the Reserve Champion Australian Stock Horse Stallion or Colt to his stable mate at the Royal Adelaide Autumn Breed Show in 2015, as a 2yo.

More details on Chalani Nightdance and his progeny are available on the Ashborn Park Facebook site.