Skyview Divali - HSH Price: offers welcomed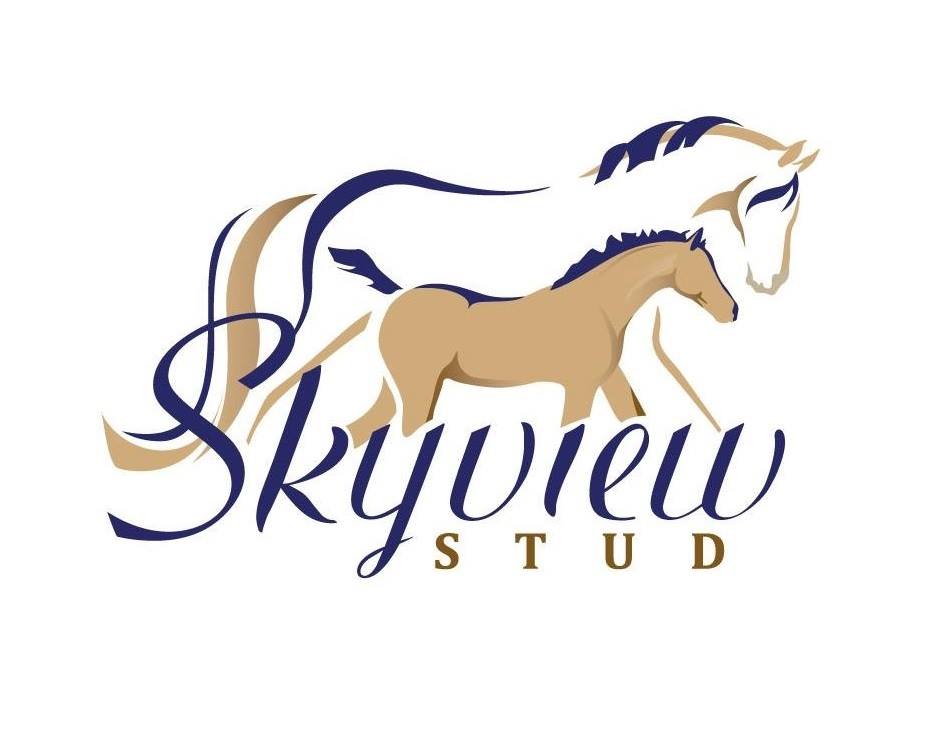 (est mature height) 15.2 - under 16h Brown / Black Filly
2 hind socks, small white mark on the near fore coronet

Heritage Australian Stock Horse
Eligible for Dilutes Australia Ancillary registration
Date of Birth: 7 November 2018


Click here for All Breed Pedigree

click here for Australian Stock Horse pedigree



Photo at 2 days of age to show her conformation.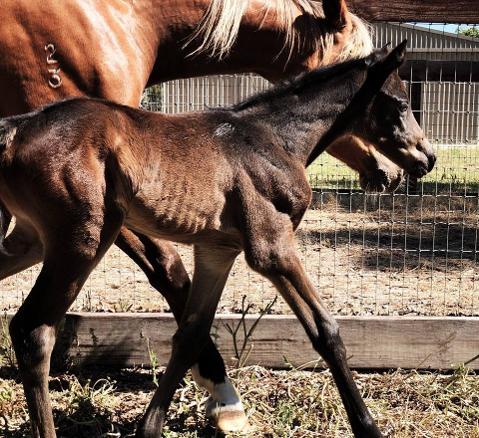 We are delighted to introduce our 2018 new filly, Skyview Divali-HSH.
She is available for purchase to a wonderful person and home.

There is a video summary just below this, plus further down the page there are videos of her walk, handling and temperament.


Divali is well handled, rugged and a snap to do so, branded, vaccinated, wormed, registered, and in the next few weeks will do some float training and be weaned and then is ready to go to her new home. She has had her hooves trimmed and rasped since the beginning and is easy to trim and handle all over.

We hope you enjoy the video and that we have done her justice - this really is a top class filly, and we're just thrilled to bits to have bred her.


"Horses that move well, are built well, can be competitive in the show ring,
competitive as performance horses and great weekend riding horses.
Horses with a willingness to work, and that are a joy to ride.

That's the mark of a Skyview Horse."




Skyview Divali-HSH is by Chalani Nightdance and out of Janara Rejoice-HSH.


She will be a beautiful led and riding prospect for someone who would like to show competitively in Australian Stock Horse classes or open classes including open hack, or someone who just wants to give everything a go in campdrafting or English performance.

Divali has fantastic conformation, great legs, good bone, lovely broad chest and hind quarter, graeat shoulder and hip angulation and a feminine head. She has lovely balance and as per the video, has been doing roll backs and stock horse turns by herself since she was a week old.

Divali also has a beautiful quality of coat, she's a quick learner, is affectionate and sensible.

Estimated mature height at this stage around 15.2h - under 16h.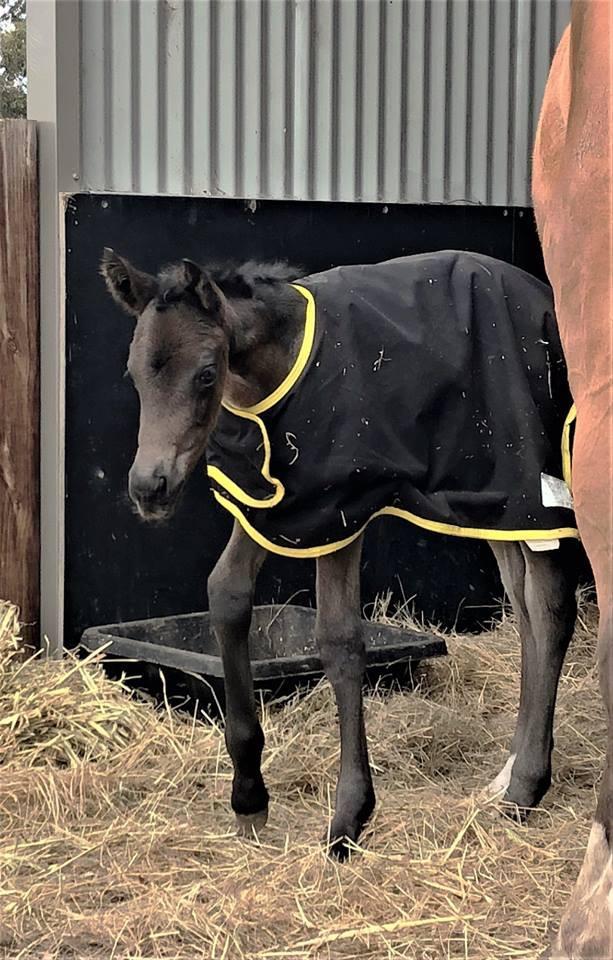 The name Divali

We wanted a name that was sensible, unique, strong, special, celebratory and feminine without being too flouncy, to suit her personality and character.
Diwali (pronounced "Di-Va-Li") is a major cultural event for the Hindu and Jain people from the Indian subcontinent, known as the Festival of Lights.
Divali the foal was born on 7th November 2018, which was exactly the same day as Diwali this year.

We have spelled Vali's name phonetically to make it easier to say and write.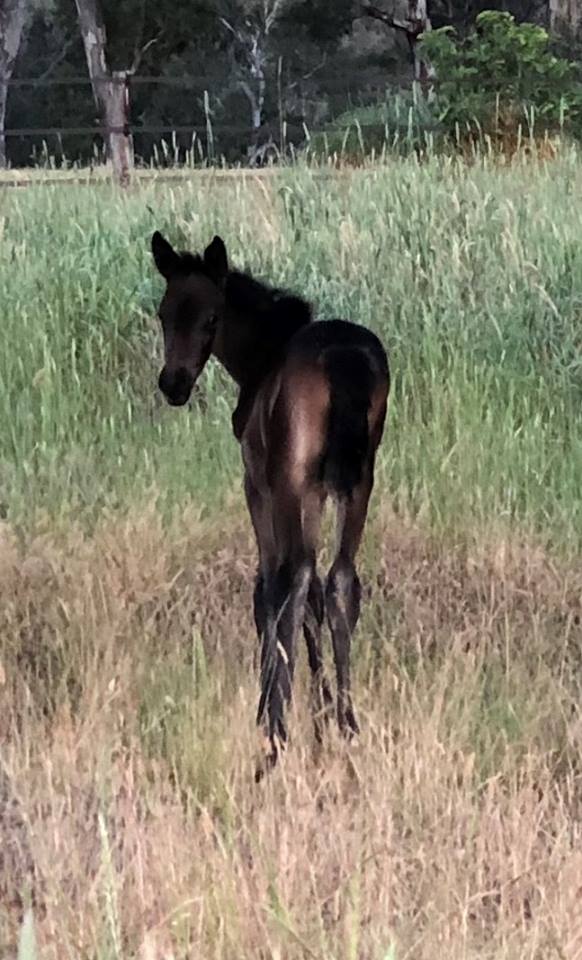 There is also something super special and magical about this filly, and last night at feed-up time, we found Divali and Rejoice actually at the end of a rainbow, in the yellow and green light.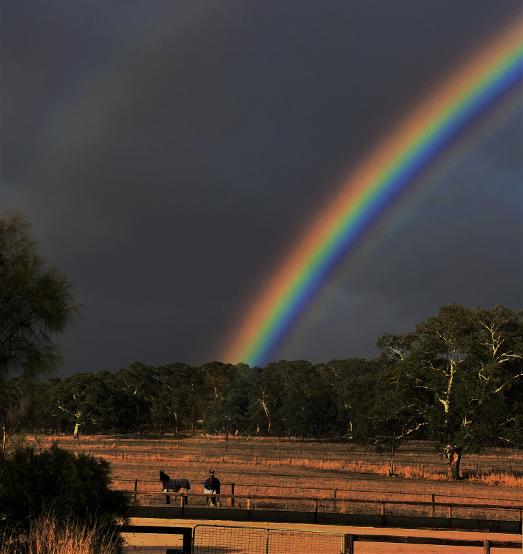 She has revealed her dark brown / black true colour as her foal coat sheds out, which makes a great contrast against her white hind socks.

If you are looking for a super young horse, eye-catchingly attractive with a lovely nature and capable of doing anything, and would make a fantastic broodmare later if you choose, then this one is worth strong consideration.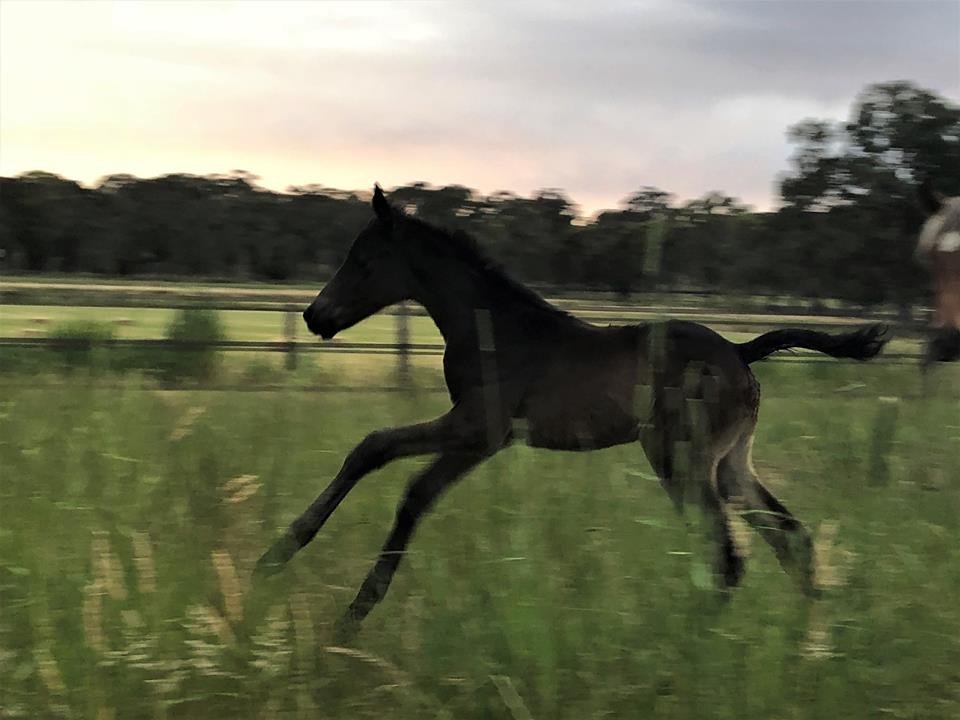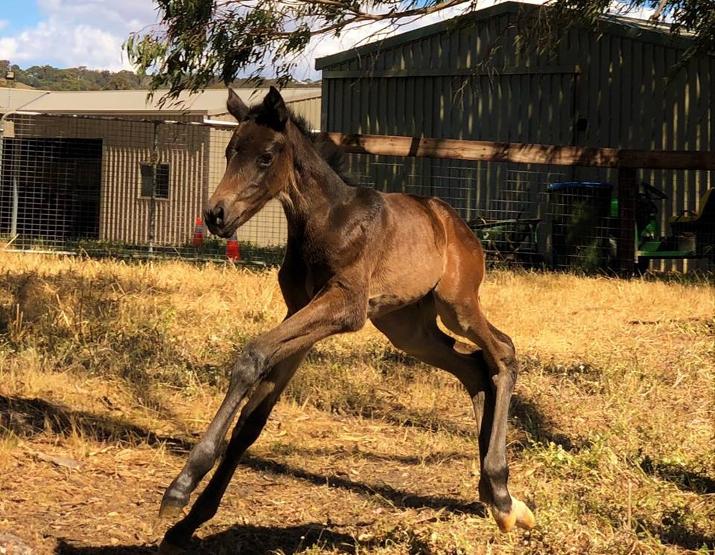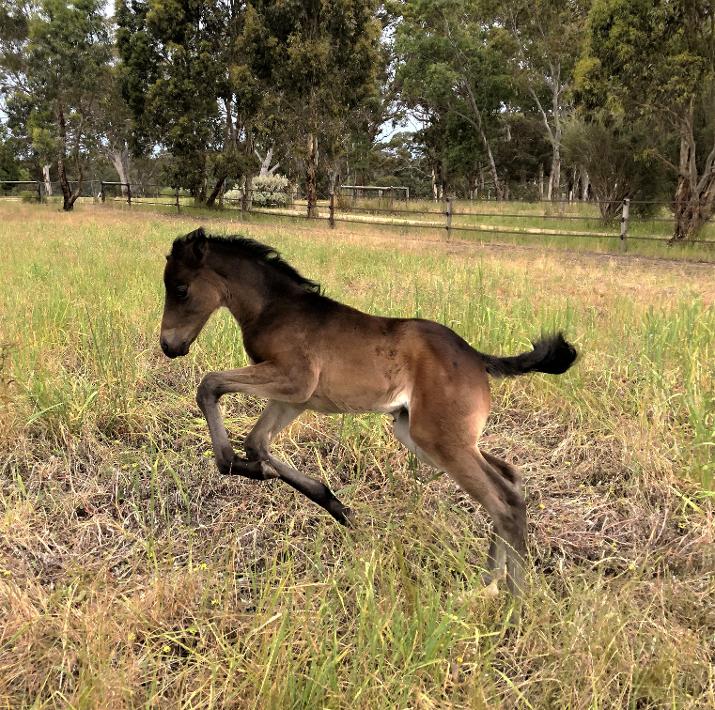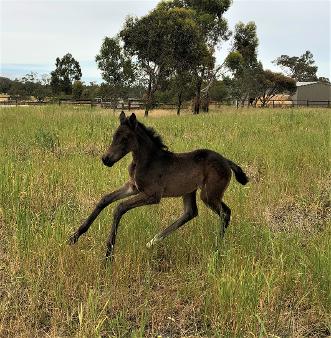 ********************************************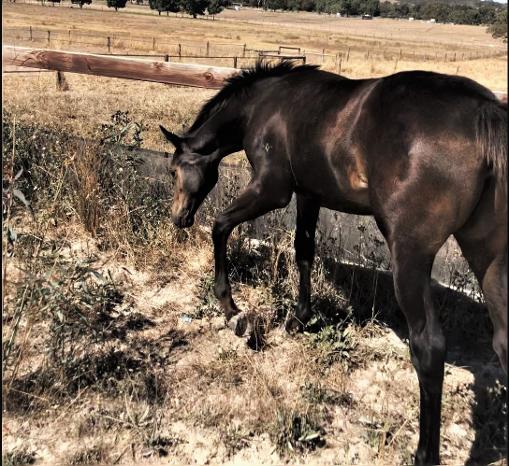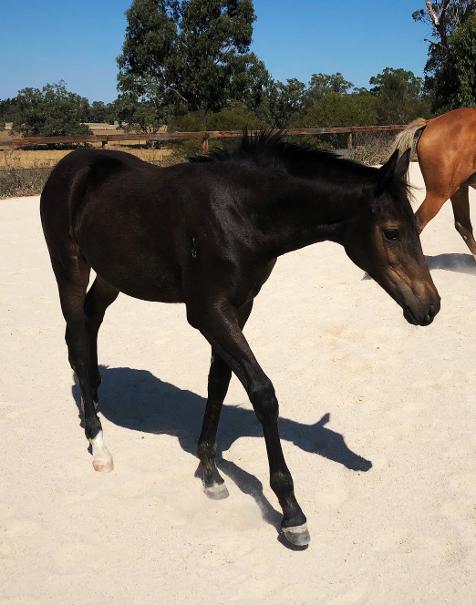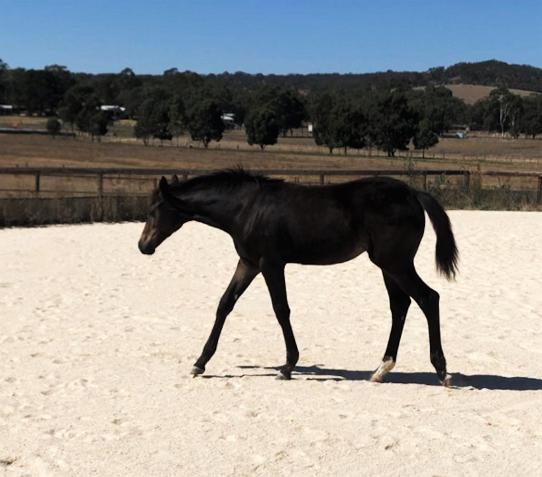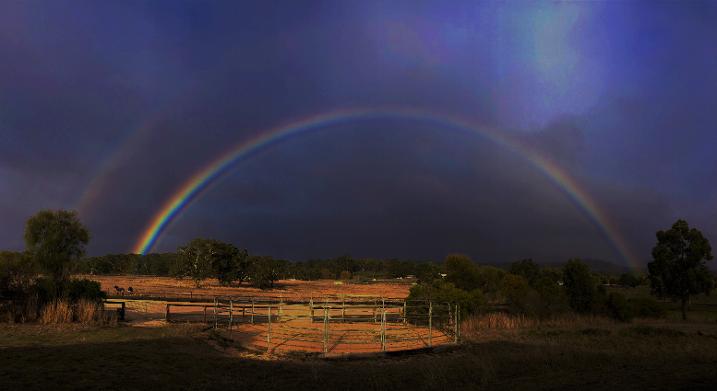 Showing Divali's temperament - whilst trying to capture some trot on video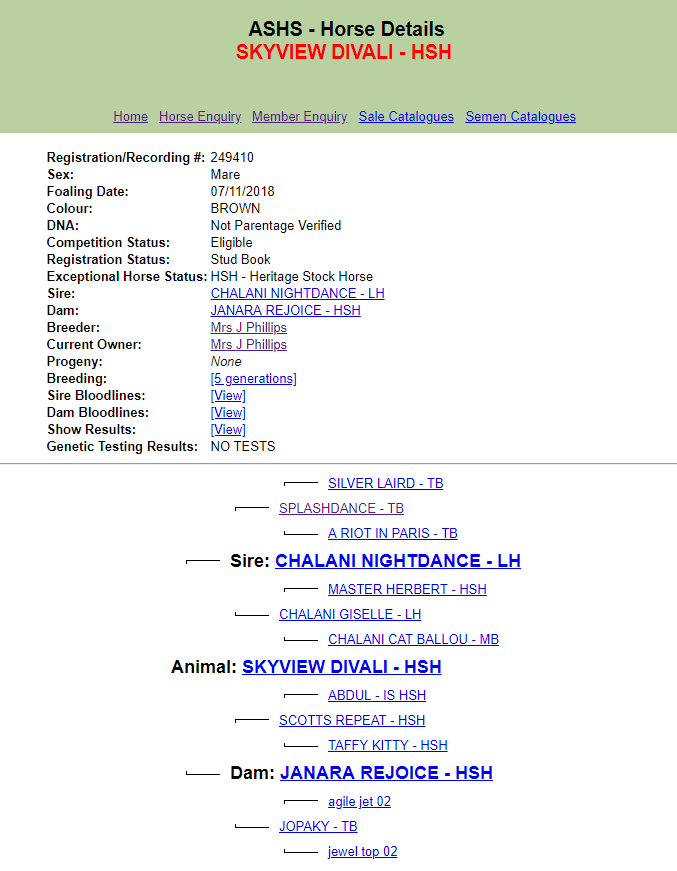 Her sire - Chalani Nightdance
Chalani Nightdance
's progeny are already proving to be exceptional, with progeny such as our own
Skyview Eternity-HSH
having won Champion and Supreme titles at State and Royal level, both led and under saddle, in ASH, ANSA and Open Hack, including Supreme Led Exhibit of Show.
In early 2016, Chalani Tempo (born 2012), son of Nightdance, won the SA 3yo Futurity, and both Champion Australian Stock Horse Stallion or Colt and Champion ANSA Stallion or Colt at Canberra Royal Show. He was the Reserve Champion Australian Stock Horse Stallion or Colt to his stable mate at the Royal Adelaide Autumn Breed Show in 2015, as a 2yo, and has gone on to win many other Champion and Supreme titles in ASHS and ANSA classes at Royal Show level.
More details on Chalani Nightdance and his progeny are available on the Ashborn Park Facebook site.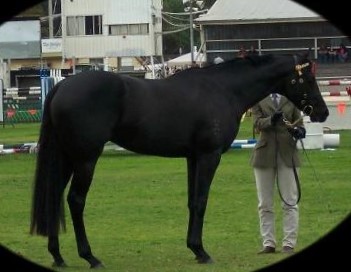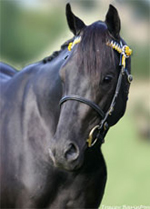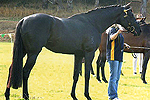 Her dam - Janara Rejoice - HSH
Divali is
Janara Rejoice
's first foal, and we are thrilled to bits with the outcome.
Rejoice was bred by Janelle Groenfeld in NSW, and is by Scotts Repeat-HSH out of a well performed eventing thoroughbred mare Jopaky.
Rejoice is one of the nicest temperamented young mares we have ever met. She is calm, generous in spirit, nothing bothers her including kangaroos, tractors, she is bold, and just a wonderful horse to have around. She has been an excellent first time mother and as a result Divali has had an excellent up-bringing and learnt many positive behaviours.
It really has been an excellent "nick".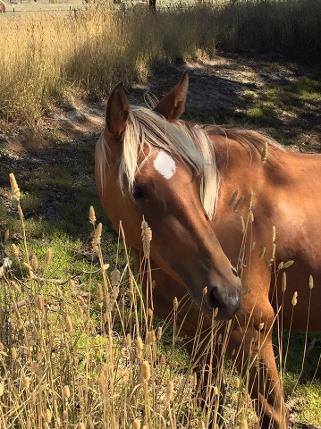 Rejoice in November 2018, 10 months pregnant with Divali - 3 days before Divali was born.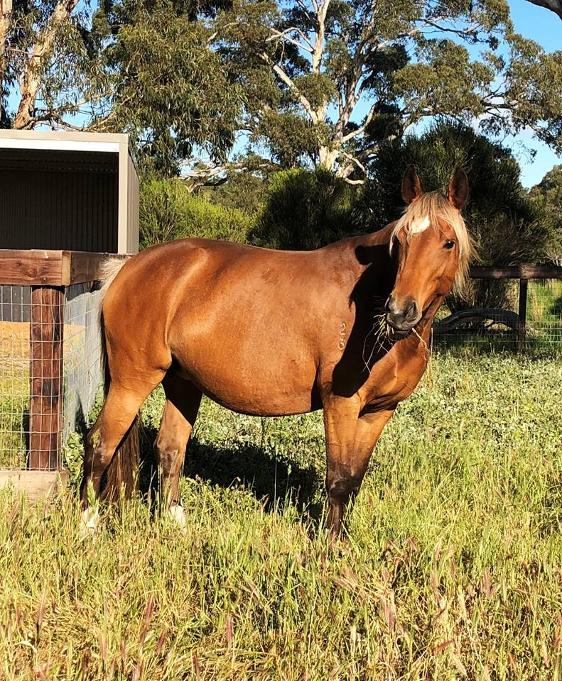 This is Scotts Repeat, Rejoice's sire.
Also known for his incredible temperament as a stallion and working horse.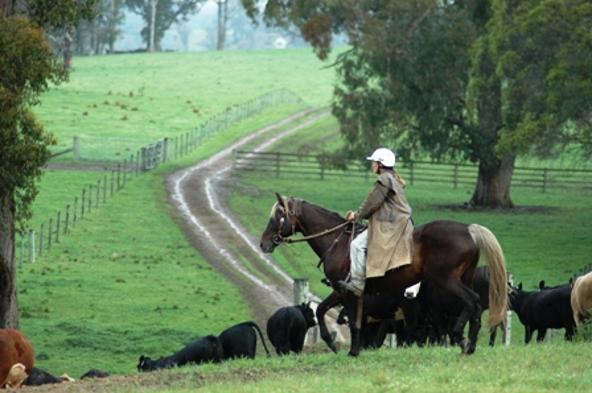 *********************************************************