Reference Sire - Gwaihir Aubusson-HSH

sire of Skyview Ambassador-HSH (click on name for link)


****************************************************
Gwaihir Aubusson-HSH
click here for pedigree

16.2h Bay Stallion (genetically bay/black for agouti and carrying chestnut)

Registered Anglo Arabian Stallion (25% Arabian)
Registered Special Merit Australian Stock Horse (classified by Norm Budd)
Registered ANSA
Registered ACE Group, classified by Dr Ramsaeur (ACE - Germany) as "Premium Quality"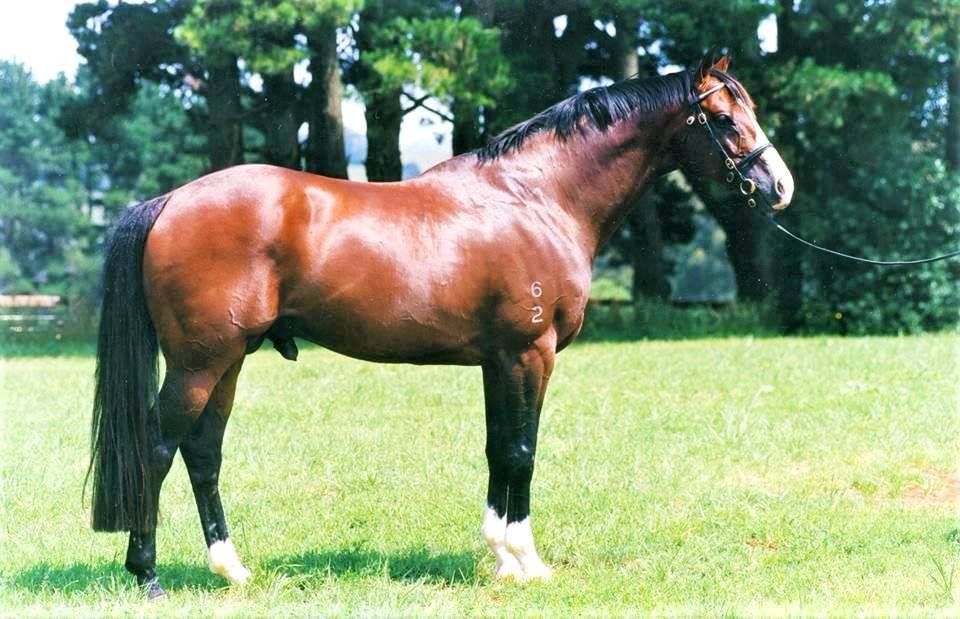 "A phenomenal combination of his breeding, this is what an anglo should be"
Gloria Lonigan commenting on Gwaihir Aubusson upon awarding him
Australian Champion Anglo Arabian Stallion 1998.

Gwaihir Aubusson is a standout stallion in all respects.
Renowned for his beautiful temperament, athleticism and correct conformation, Aubusson throws well conformed and talented offspring who excel in many disciplines.
He stands at 16.2hh and throws height, as his dam was 17hh.
He is the perfect choice over Warmblood, Thoroughbred, Arabian or Australian Stock Horse mares.
Gwaihir Aubusson had an illustrious show career:
East Coast Champion Anglo Colt,
Led and Ridden
Australian National Champion Anglo Stallion, Led and Ridden
Australian Champion Derivative Stallion, Led and Ridden
Sydney Royal Champion Ridden Arabian Derivative
He also placed many times in dressage, eventing and showjumping.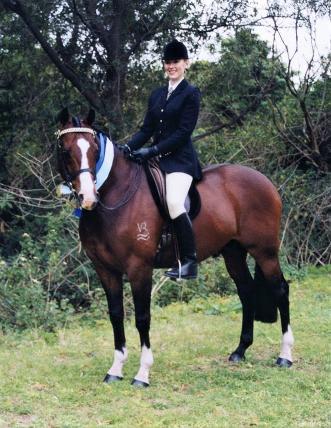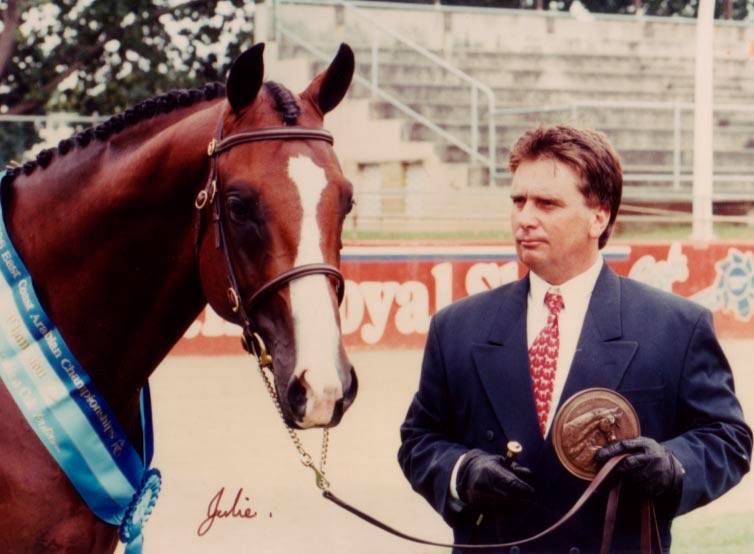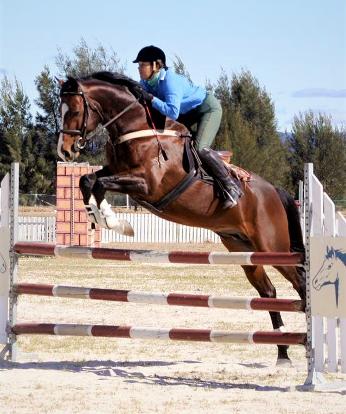 The cover photo for Hoofs and Horns magazine, shotat Castlereagh St, Sydney CBD.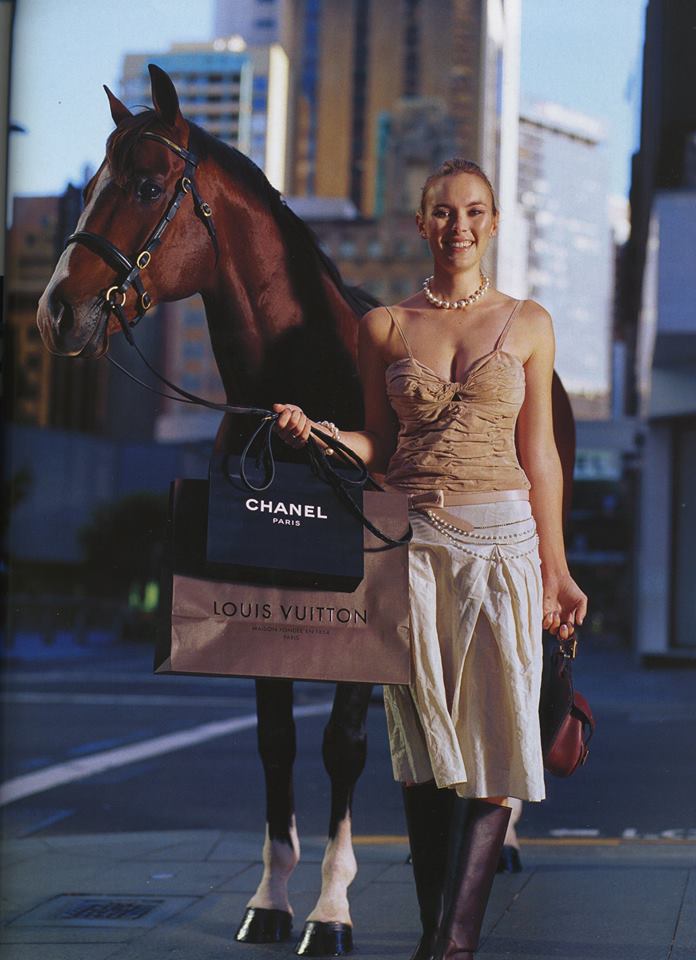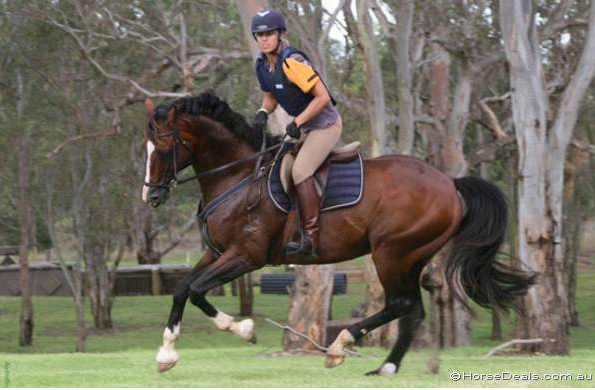 Gwaihir Aubusson's progeny exell in a wide variety of disciplines, and sell well due to their versatility as all-round performance horses and wonderful temperaments.
Showing- Aurigan de Gwaihir (Syd Royal Champ), Gazelle de Gwaihir (Darwin Royal Res Champ)
Eventing- Ari de Gwaihir (4*), Tarrenlea Eloise (3*), Aurelia de Gwaihir (2*)
Show jumping- Mt Robinsons Gwaihir (GP), Mt Robinsons Choice
Dressage- Hail
Ari de Gwaihir, 4* Eventer.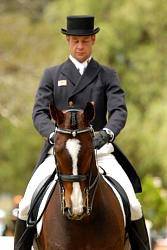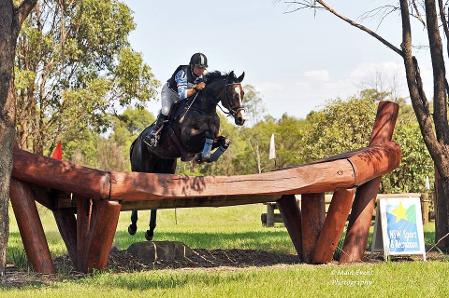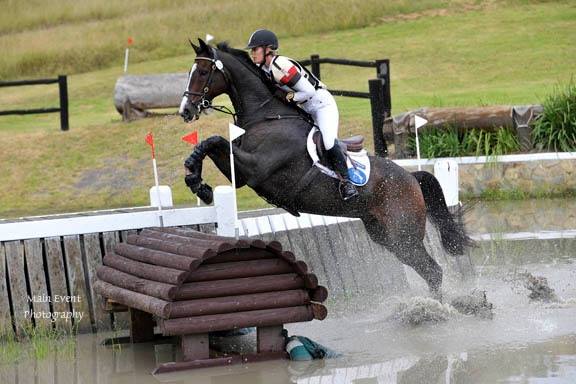 The lovely 3* Eventing mare Tarrenlea Eloise, by Gwaihir Aubusson.

Pictured at Berrima ODE and Adelaide 3DE with Craig Barrett.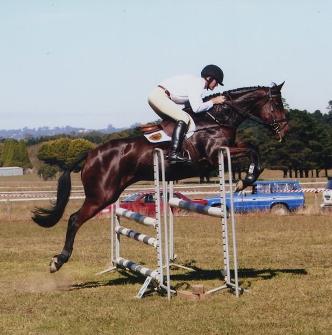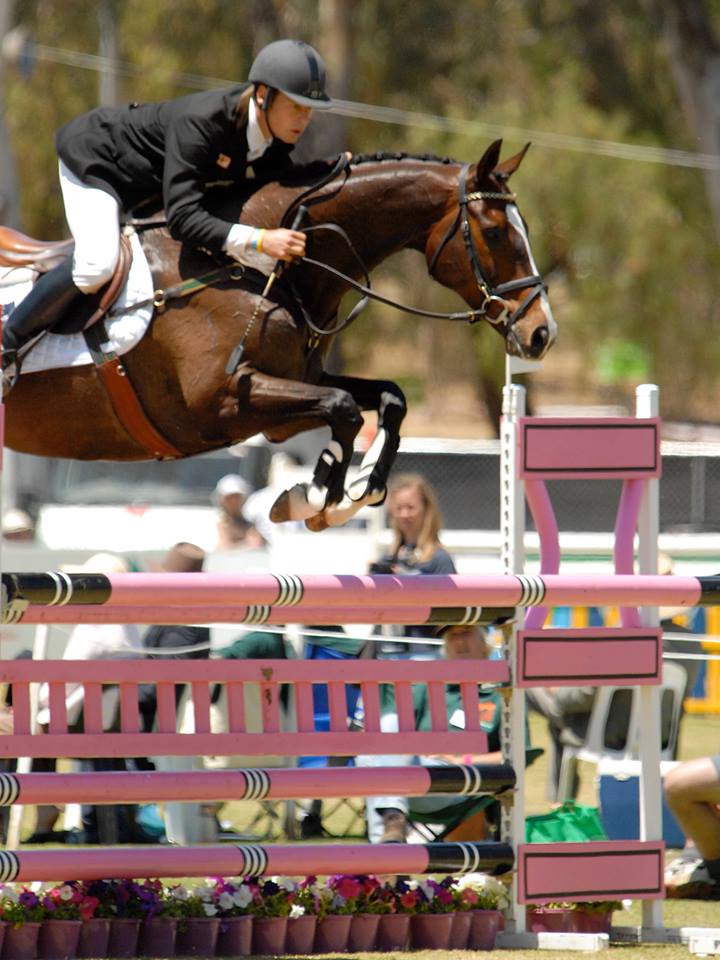 Mt Robinsons Gwaihir and Airlie Robinson in the Silver Series first round, Grand Valley Showjumping Carnival.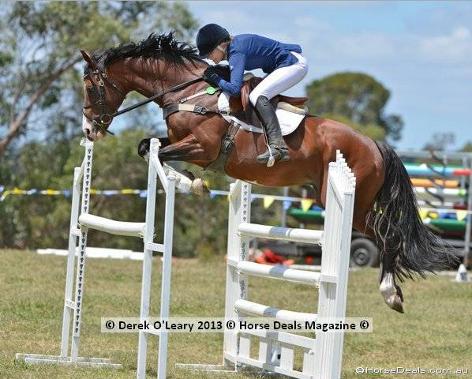 Airlie Robinson is pictured with Mt Robinson's Gwaihir (Gwaihir Aubusson/Just Ours) during the jumping phase of the Young Event Horse Challenge at the Sydney Royal Easter Show.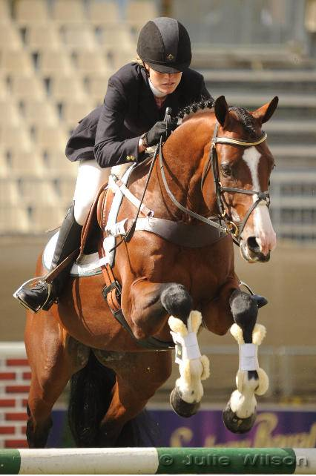 Gazelle De Gwaihir exhibited by Jamaica Bissett-O'Shea at the Darwin Royal Show in 2009, won the Arabian Mare class and went on to be declared Champion Led Arabian, and Reserve Champion Open Hack.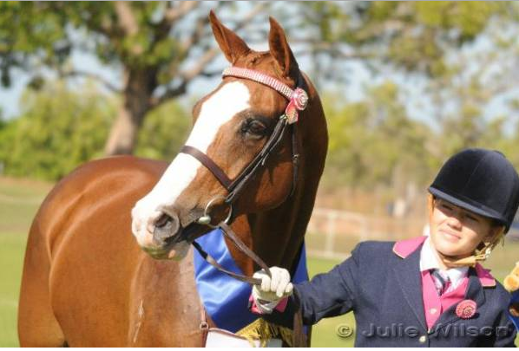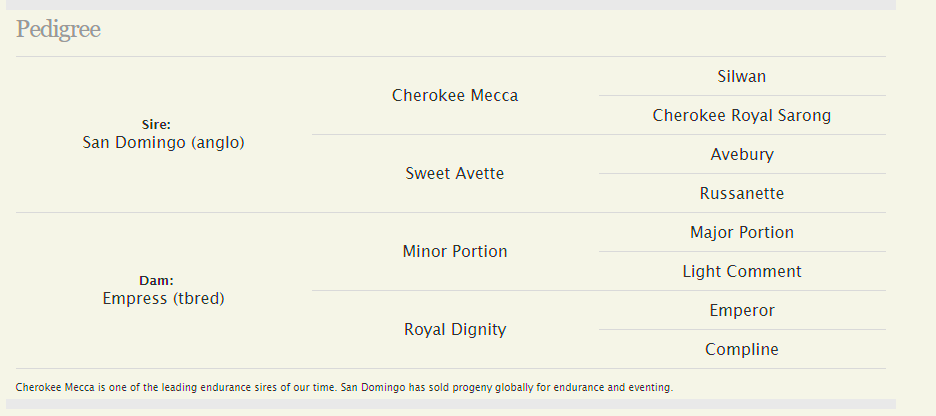 The Anglo Arabian stallion San Domingo,
sire of Gwaihir Aubusson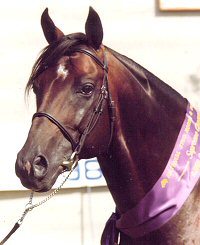 About the name ....

Gwaihir was the name of the original property purchased by Victoria Ross in East Kangaloon, New South Wales, Australia.

The name originates in J.R. Tolkien's Lord of the Rings trilogy, Gwaihir is the 'Lord of the Eagles and King of the Winds' and is himself an eagle.

Gwaihir is a challenge to pronounce, as are most of Tolkien's names, we pronounce it as "G-why-here"- the 'g' is like the 'g' in grape.

As the stud was founded at Gwaihir, this great name is used as the prefix for all horses bred and bought by the stud.

As San Domingo's time passed and Aubusson came to the fore as the stud's sire, the prefix then became a suffix, and hence for all of Aubusson's progeny, their names are followed by "… de Gwaihir", which means 'of Gwaihir'. Aubusson's name is pronounced "Oh- boo-ss-on".)
Pictured left to right - Aubusson's breeders Genevieve and Victoria Ross.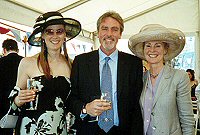 Gwaihir Aubusson, the Perfect Stallion

(press articlepublished by Cyberhorse Virtual Equestrian, written by Rachel Smith)
Gwaihir Aubusson is one of the happiest stallions in the world according to stud owner Genevieve Wild. An outstandingly successful sire, his progeny are found in every equestrian discipline, being ridden by amatuers and Olympians alike. Aubusson possesses a real athleticism, unmatched versatility and a superb temperament all of which carry though to his children.
His most famous son at the moment is successful Eventer, Ari de Gwaihir. Ari was one of the first season foals by Aubusson. He made his 4* debut at the Adelaide International Horse Trials in November 2009 where he placed 7th overall. Ari is currently on the A squad for the 2010 WEG Eventing team with Olympic Silver medalist Shane Rose. The pair are aiming for the World Equestrian Games to be held in Kentucky later this year and the 2012 London Olympics.
Visiting Gwaihir Aubusson at home is a breathtaking experience. His presence can be felt from a distance, he is unmistakeably a stallion, but his work ethic is second to none. He is so sensible that he can serve a mare in the morning and be ridden past the same mare later that day whilst mustering cattle on the 150 acre property at Robertson in the Southern Highlands. Often he is ridden him up from his paddock bareback when he is required for a service. It is a truly emotional site to witness an animal so powerful be so honourable and gentle.
Always an absolute gentleman, Aubusson is able to tease and serve his own mares with the minimum of fuss. A single handler is all that is needed. Perhaps because Aubusson is able to naturally cover many of his own mares, as well as offering chilled and frozen services, the Gwaihir Stud has a very high success rate with pregnancies. Around one hundred foals have been born to the boutique stud since Aubusson's first season in 1996. Genevieve still receives news about many of these horses and the stud's website is a very informative resource for prospective clients interested in a potential sire.
Aubusson was bred by the founder of Gwaihir Stud Victoria Ross in 1992. The son of Anglo Arabian San Domingo and 17hh Thoroughbred dam Empress, he stands at 16.2hh and is registered Anglo Arabian (25% Arab/75%Tbred), Australian Stock Horse (Special Merit), ACE Studbook and AWSHA Sporthorse. San Domingo, affectionately known as Donald, was the love of Victoria's life, the way Aubusson is the love of her daughter Genevieve's.
Aubusson began his versatile career in the Hacking ring. He amassed Supremes and Champions over the years. His illustrious show career culminated by winning champion under saddle at the Sydney Royal in 2004. The very next day Genevieve and Aubusson competed at the Scone ODE where the dressage judge was suitably impressed with his exquisite turnout. Genevieve still enjoys riding the stallion and at the age of seventeen Aubusson made an appearance at the Bowral Dressage Championships where he was awarded 8s for his canters and long rein walk. Genevieve is planning to complete an Endurance ride with him in the near future.
Aubusson has also been competed successfully on the show jumping circuit by World Cup rider Colleen Brook. He spent three winters with Colleen whilst serving mares over spring at Gwaihir. Colleen was always impressed with the stallion's attitude at competitions and was never worried about leaving him tied to her truck at events.
The Gwaihir stallion has a career as a model. He features in the coffee table book "High on Horses" by Nicole Emanuel and made the cover of Hoof and Horns magazine. Genevieve rode him down the main street of Sydney and cantered him through Hyde Park for the photo shoot. Aubusson impressed the crowds gathered to watch the spectacle with his calm, confident demeanour.
During 2010, whilst Genevieve works on the tough job of being a mother to two year old Tabitha, the ride on the stallion has been given to Jane Robinson. Jane has a five year old mare by Aubusson named Hail and is keen to take the pair on the Eventing circuit together. Recently the whole family including dam Rain, also owned by Jane, went to Bowral show where they all jumped in the unofficial 90cm class. The two mares went double clear and Aubusson had just one rail on his first outing with his new rider.
The father and daughter team attended the Sydney International Eventing clinic last weekend where leading coaches Chris Burton and Sam Lyle were suitably impressed with the pair's movement and braveness. Jane was amazed at the stallion's ability to gallop and is looking forward to competing the Gwaihir pair at the upcoming Sydney One Day Event in February.
"He is the perfect stallion," Mrs Wild says about Aubusson. "It is a pleasure to own him and so many of his progeny are doing so well."
********************************************************************