Stallion - Goldmine Mirage-HSH
Our Stallion pages refer to horses that we have available for stud duties or as frozen semen.
From time-to-time this may include references to other studs that Skyview has a breeding relationship with.


Liquid Gold. "Colour without compromise"
Sold out - thank you so much to our lovely clients for their patronage


Thank you to all of our wonderful clients who have purchased Goldmine Mirage frozen semen.
We are so thrilled and delighted with the quality of his foals and your feedback. Please continue to share them and their journeys with us.
We can now confirm that bittersweet moment where we have no frozen semen remaining for purchase. We have retained the last doses for our own stud use, so will still be producing his foals.
Thank you so much again
16.1h Cremello Australian Stock Horse Stallion

- Stud Book Australian Stock Horse 165047
- ACE Group Inc performance tested & registered
- Dilutes Australia White Horse registered
- Dilutes Australia Ancillary registered
Date of Birth: 05 November 2005
www.allbreedpedigree.com/goldmine+mirage
click here for Australian Stock Horse pedigree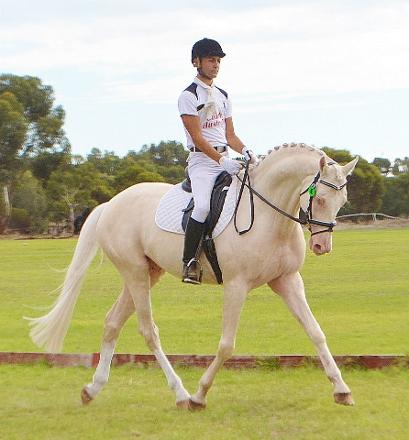 Goldmine Mirage-HSH's 2016 frozen semen advertisement.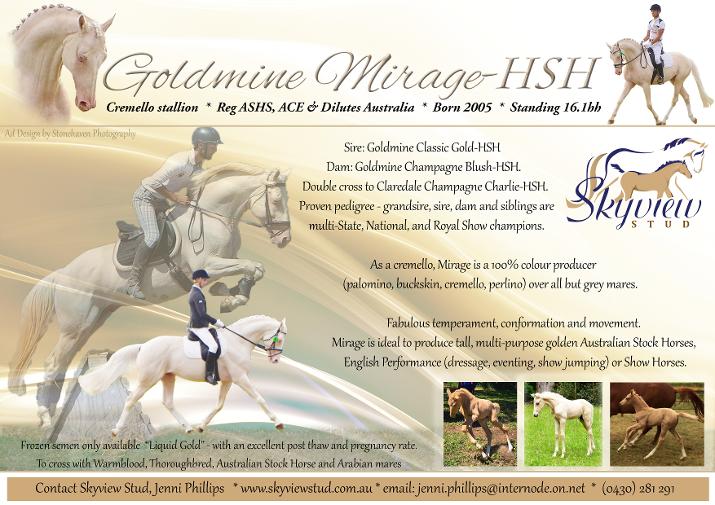 The only remaining son of our foundation broodmare, Goldmine Champagne Blush-HSH, Goldmine Mirage-HSH is a simply stunning cremello stallion with a double cross to the legendary Claredale Champagne Charlie-HSH.

Claredale Champagne Charlie-HSH was one of the best performing palomino stallions to ever enter the show ring and with Chico d'Oro, the two most influential sires of palomino horses in Australia.

Charlie won multiple ridden and led Royal Show Championships in QLD, NSW and VIC, including a successful dressage career, training up to Prix St George level. Charlie's sire, Desert Gold, competed successfully in dressage at FEI level, and was a B Grade Showjumper.

Charlie's progeny have been sold around Australia and overseas and are used for just about everything.

Goldmine Mirage-HSH has certainly inherited the easy going temperament that Charlie is renowned for passing down. Calm and trainable with a beautiful trot and canter, Mirage is proof that you don't need to compromise on movement or temperament to breed colour.

Mirage is a 16.1h stud book registered heritage Australian Stock Horse, with a very high percentage of Thoroughbred and 6.25% Arabian. Progeny are registerable with the Australian Stock Horse Society as full stud book or first cross, the ACE Group in their performance horse register, Dilutes Australia as a dilute and ancillary, and the Australian Palomino Horse Breeders Association (APHA), depending on the mare's registrations.

He is an ideal cross to Thoroughbred, Australian Stock Horse, Arabian or Warmblood mares, for those looking for good temperament and trainability, good movement, height, elegance and a golden coat.

Mirage is a 3/4 sibling to our mares Goldmine Latte-HSH (multiple National, Horse of the Year, State, and Royal Show Champion) and Skyview Champagne Rose-HSH, and a 1/2 sibling to our filly Skyview Eternity-HSH (2015 National Buckskin Filly Horse of the Year). Their details are on the "Our Mares and Performance Horses" page.

Goldmine Mirage-HSH's first crop of foals born in the last 2 years have lived up to all expectations.

He is the sire of Skyview Sovereign, palomino colt born October 2015 and sold to QLD as a future performance horse and stallion prospect.

100% producer of palomino or buckskin to all mares except greys.
Mirage is DNA colour tested ee AA CrCr, so will never produce a black buckskin / smoky black foal.



The details ...
- frozen semen is located in SA (Murray Bridge) and VIC (Goulburn Valley Equine Hospital or GVEH).
- transport and shipping is easily arranged across Australia, in liquid nitrogen
- frozen semen can be kept in liquid nitrogen at your vet or breeding centre, and is viable indefinitely.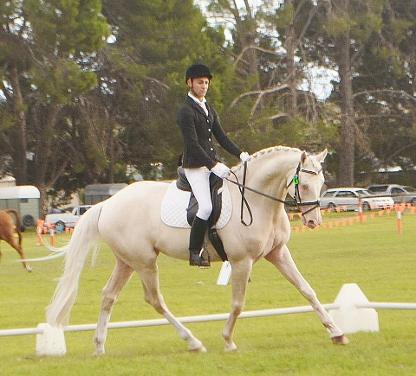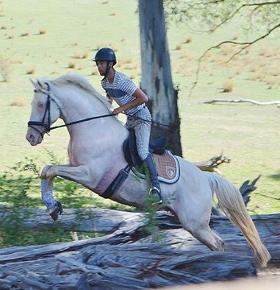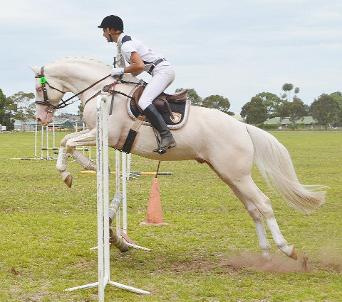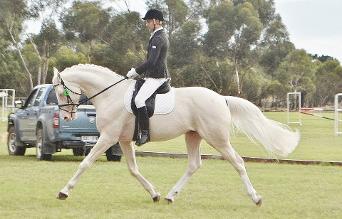 Collected at Goulburn Valley Equine Hospital in 2011 and 2014, Goldmine Mirage-HSH's frozen semen has excellent post-thaw motility, and so far a 10/11 pregnancy rate from a single dose, in multiple different mares.

It is stored in SA (NHD Artificial Breeding Services in Murray Bridge) and VIC (Goulburn Valley Equine Hospital in Congupna).
Semen is sold at 1 service certificate per frozen dose of 8 straws.

Thank you to Exquisite Gold Stud and rider Ty James, SA, for the ridden photos of Mirage below.

************************************************************************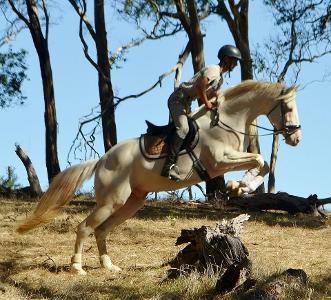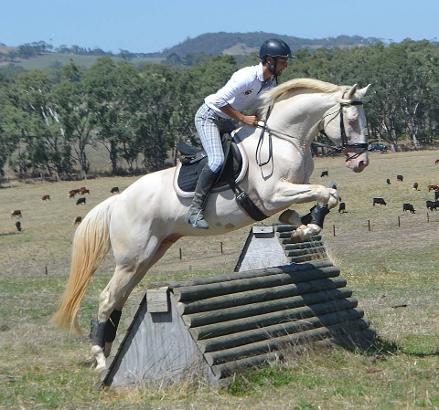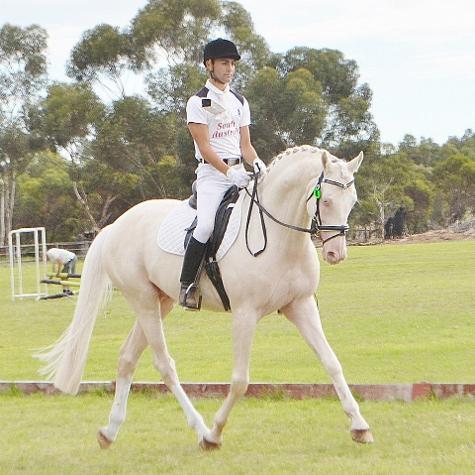 Mirage's sire

Goldmine Mirage's sire is Goldmine Classic Gold-HSH, son of Claredale Champagne Charlie-HSH.

Goldmine Classic Gold-HSH's achievements include:

A.P.H.A. National Show Vic - Multi - Supreme Led Exhibit




A.P.H.A. National Show Vic - Best body Colour of Show




A.P.H.A. National Show Vic - Best Mane & Tail of Show




Melbourne Royal Show - Supreme Led Palomino Exhibit



Multiple Champion Open Breed Stallion at Agricultural Shows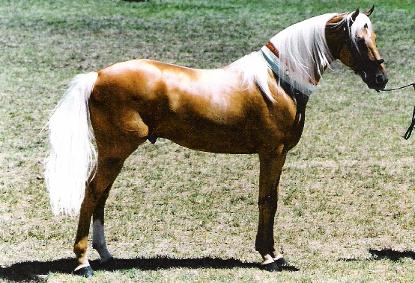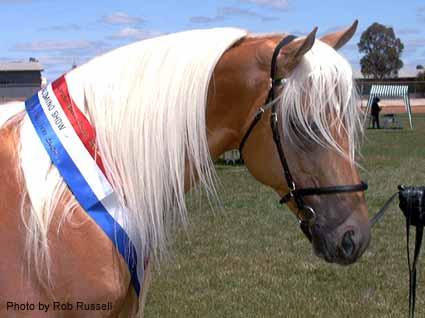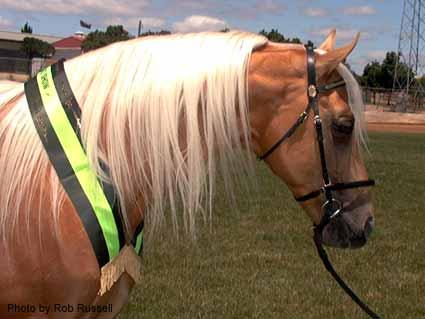 Mirage's dam

Goldmine Mirage's dam is Skyview Stud's foundation mare, Goldmine Champagne Blush-HSH.
Blush is arguably the most successful palomino show mare in Australia, and Champion Palomino Mare at the Melbourne Royal, 6 years in a row.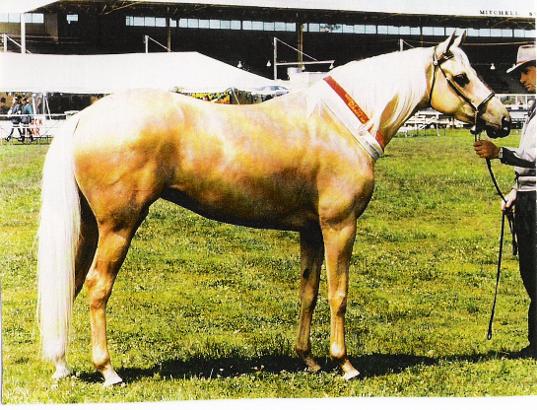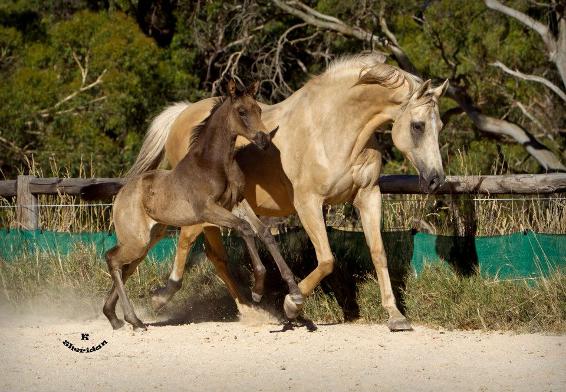 Goldmine Champagne Blush-HSH at 24 years of age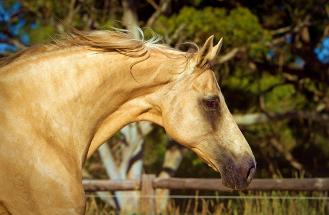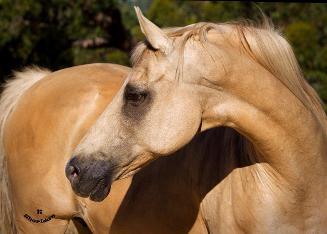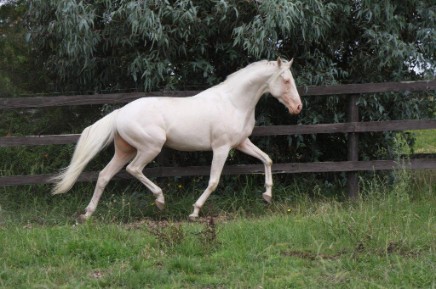 ***********************************************************